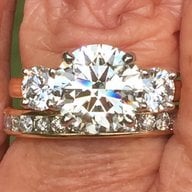 Joined

Jun 23, 2005
Messages

13,991
and here I am posting on PS! I have been a long time lurker and am now coming out of the closet. A big hello to all of you - I feel like I know so many of you although you don''t know me! I have been tuning in for a couple of years now and have finally taken some pictures to show. I tried this once before; I had to resize the pics so don''t know how good they will come out. This digital camera is not an up to date version so bear with me.
My diamond story started 28 years ago - actually 29 years ago when I first got engaged - with a .75 carat stone. I can''t begin to tell you how much diamond purchasing has changed in all of those years. My husband was presented with a bag of stones from a very reputable jeweler - all the same size and laid out to pick from! I had a certificate that said .75 carat stone, color good, clarity good. That''s it! I wore that stone for ten years and one day noticed how yellow it was when comparing it to my SIL''s rings. I traded it with a wholesaler who said he thought it was ''coated'' with household cleaning products. I would love to have that stone now to have a good acid bath and steam cleaning. It was probably in all actuality not that yellow. Thus the saga began. I traded several times - always trying to achieve a ''sparkle'' that I now know is constituted only by cut. No one ever told me about cut. I just thought that better color and clarity would get me where I wanted to go. Some trades were for that - some trades were just for size. I now know that I had a fisheye stone and one really deep stone. Just didn''t look quite right - although I didn''t know why. They were pretty - always had lots of compliments - but I knew something was missing.
I contacted Zed Mervis of Mervis Diamond and he agreed to look at the stone I had then - 1.82 - with a view toward trading it. When we met, he told me that the diamond didn''t represent the type of ''cut'' that they sold. HELLO! Bells ringing - never heard of such a thing! When compared with what he had, I saw immediately what he was talking about - and his stones at that time - were more 60/60 stones. I traded for a 2.01 H SI1 stone - beautiful! I went back a couple of years later to upgrade my mounting. Looked at some ''ideal'' cut stones - different but not worth the trade - so I thought. OF COURSE, I eventually went back to take a second look at those ''ideal'' cut stones. I again traded for a 2.03 ct. stone, G color, SI1. Even though we all know that a well cut stone can look bigger, it just didn''t to me. The precise pattern as opposed to the scattered look of a 60/60 stone to me looked smaller. The eye was just drawn in to a more compact pattern. I eventually went back after seeing this 2.22 AGS0 stone on his website. This stone was eyeclean - the table area had no inclusions which I really liked. No more staring trying to find the inclusions! I was just enough bigger for me to feel that I had recaptured the size I always wanted. This stone is a G color, SI1 clarity. It measures 8.46 x 8.49 x 5.14. The depth is 60.7, the table 57, the crown 34, and the pavillion 40.9. The mounting is by PrecisionSet with two side diamonds totalling .66. The band is a Tiffany etoile - all in 18 kt. yellow gold.
After many years of anguish and heartache over trying to find the most ''sparkling'' stone, I can tell you how fortunate you are today to have so much information at your fingertips. I even wrote to a few appraisers and vendors here on PS to run the stats by them. Couldn''t get anyone to say anything negative - one person said the only thing wrong with it was that he wasn''t selling it to me! I could have certainly gotten a better price from online vendors but after having so much invested in my stone, I had to return to Mervis. They have always treated me fairly and were a godsend for me. After awhile, the money doesn''t mean as much as the peace of mind does. Some things you just have to bite the bullet and pay for - they don''t give them away!!!
Thanks for reading and thanks for looking. So many times I have put fingers to keyboard to respond to a post but oops - not registered. Registered but no pics - so here I am at last. I just hope these pictures attach in a way that can be viewed. Again, many thanks for the many hours I have enjoyed reading and learning - you are all very dear to me!