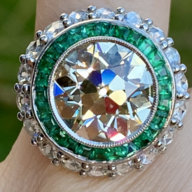 Joined

Sep 18, 2003
Messages

550
I thought I would share the before and after for six recuts that Jerry Newman of Gemartservices. and Dan Stair of Customgemstones.com did for me in the last month.
I think they are both incredibly talented, and I've had excellent results. Part of getting the excellent results is describing what I like to see in colored stones, and exactly what I like and dislike about the stones as they are.
This will take a few posts to stay within the Pricescope image limit, so I'll start with the two from Dan Stair.
Neon Pink Tourmaline:
Went from 4.82 to 3.4 without a loss of face up size. I loved the color of this stone but the optics were really strange, even though the oval was not overly long it split into two colors on either side, and the cut looked bifurcated like butt cheeks.
This was an inexpensive stone from Pakistan of Afghan origin. It did not match the seller's photos so I can't recommend them. I asked Dan to fix the cut any way he saw fit.
Before: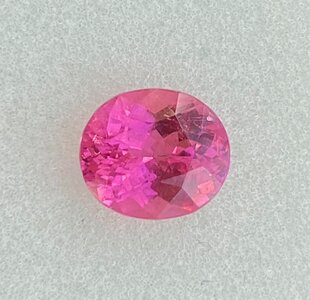 After -- now the color is symmetrical and the varied colors look like flames inside the stone, not two separate halves.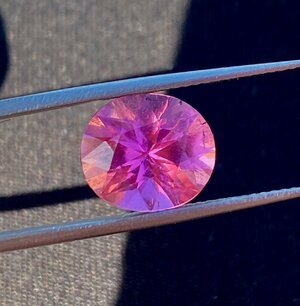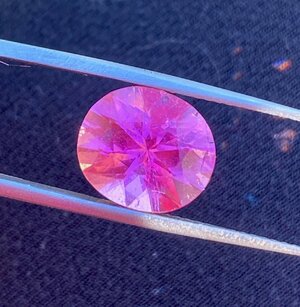 Teal blue indocolite tourmaline:
This was a large Afghan tourmaline from Haris_gems_93 which was a great match for his photos and I bought planning to recut it. The stone was a beautiful color but the mixed cut was poorly executed and it was "off" most of the time. However, it doesn't shift much in outdoor vs. crappy indoor lighting, which was a big plus for me. It does not have a completely open C-axis which gives it this medium tone.
It went from 16.49 to 10.32 cts and from 14 x 13.7 to 12.85 square. I am pretty sure Dan could have fixed the cut with less weight loss if I had given him free reign, but I asked him to turn it into an old mine cut.
Before - the stone "on"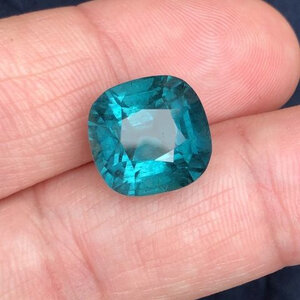 Before - the stone "off"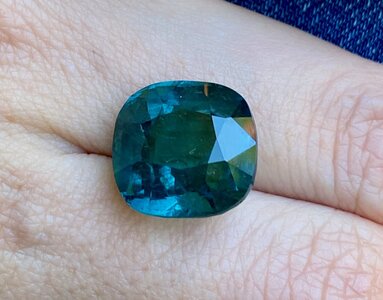 After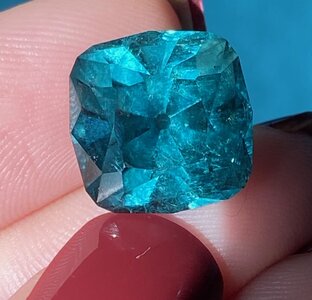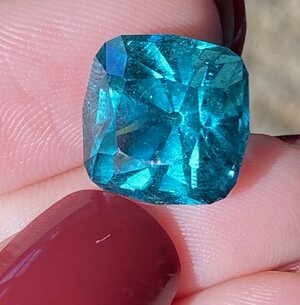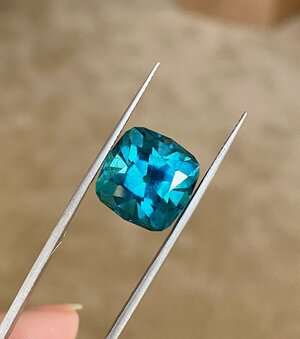 Incandescent light - you can see it shifts green but the effect is quite pleasing!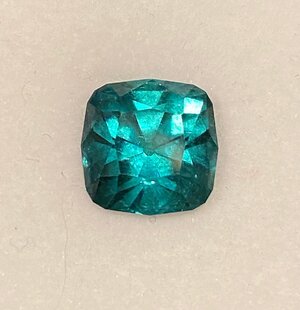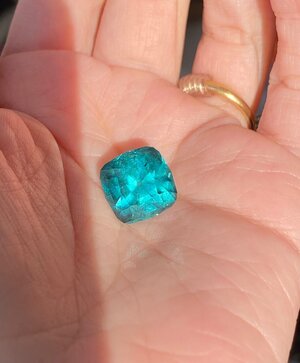 Overall, the cut improved saturation in the center, and lost a bit of saturation around the edges, which is a fair trade for me.
Next up Jerry's stones...