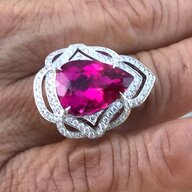 Joined

Dec 26, 2017
Messages

1,322
Back in July of last year I was admiring
@icy_jade
's gorgeous Peruvian Blue Opal ring, and suggested that Peruvian Opal might make a good alternative to jadeite.
@ChaiK
then gave me the tip that I should take a look at Gem Silica from Arizona's Inspiration mine as another alternative.
DW and I had never seen any Gem Silica in person, but later that year we just happened to come across a piece at an auction. It was a rather unusual shape, but once DW saw how well it looked against her skin she decided it was destined to be a pendant. As some of you might know, DW has a thing for pendants.
Here's a picture of the stone, it is 16.1ct measuring 30.7x9.8x7.0 and cut from Inspiration mine rough by John (Jay) Baskin.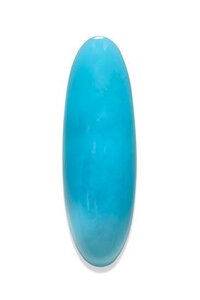 We had some other projects in the works so didn't give the stone to Amy at DKJ until a few weeks ago. DW had determined the stone was so beautiful in its own right it didn't need a diamond halo or anything too fancy. Just a simple setting in 18K yellow gold to enhance the stone and keep it the center of attention. Amy and the DKJ pulled off this simple but elegant design to absolute perfection, here's their video and a couple of their studio photos.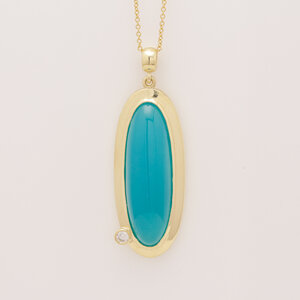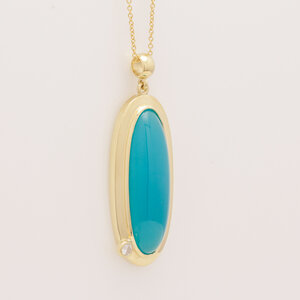 This Gem Silica does take on more of a blue shade in strong lighting, but in regular lighting it's more of a teal green, and it does look a lot like jadeite! A few neck shots in different lighting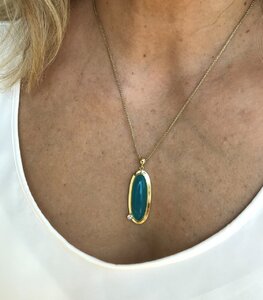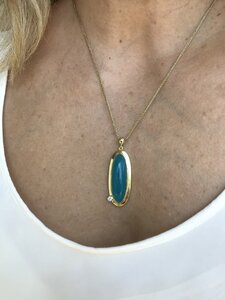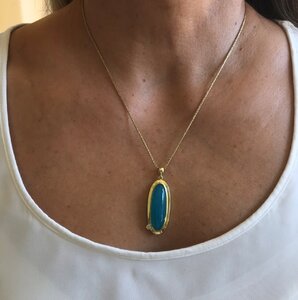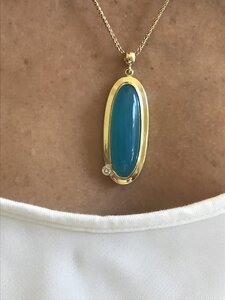 DW did add a single diamond highlight to the design. I tease her that her pendant has a pimple!