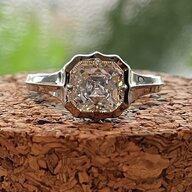 Joined

Mar 2, 2013
Messages

5,866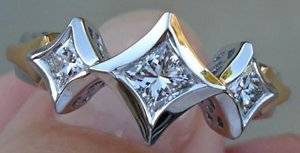 I have a three stone RH ring that I want to have made that is similar to/inspired by the ring above that I found on eBay, and I think I want to go with French cuts for it. Since this will be a fun-to-wear piece vs something 'heirloom-y', and because I want to put the fund$ that would be $pent on FC diamonds into other projects, I think moissanite makes sense. Sizewise, I am thinking probably 3mm - 4mm - 3mm as I like the slight variation/scale of the inspiration ring.
So who has FC moissy to show off/share, where did you source it from, how do you like it, pricing, etc? Please feel free to post pics (duh!
) along with the sizes of your stones and - if on the finger - your ring size please to get a sense for scale.
I kinda like the look of JuliaB's FCs, as they aren't too high, but the tables aren't cut to octagonal shapes, and I don't want to just go with the first source I find.
Thanks much!

Last edited: