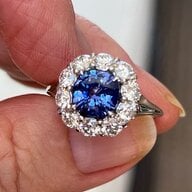 Joined

Aug 18, 2013
Messages

8,611
I'm planning to have a pair made using 10 point diamonds. I'm currently trying to work out how many diamonds I'll need to give me a 1 1/4" hoop, so I can get some idea of cost before I contact the jeweler. I have 24 x 10 pt diamonds, so might not do the whole hoop - perhaps just the front. But I'd love to do the whole thing, if I can just get a sense of how many I might need.

I also have a collection of 1/4ct diamonds, 20 pt diamonds and 6 pt diamonds! So I'd love to see diamond hoop earrings of ALL sizes.

Please tell me the size of the diamonds used, and the diameter.

And if there's already a thread on this - feel free to point my nose in the right direction!

Thank you!
Last edited: