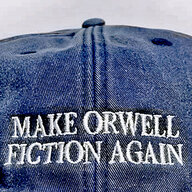 Joined

Apr 30, 2005
Messages

30,114
This issue is not going away.
http://www.bbc.com/autos/story/20161020-should-obese-passengers-pay-more
Sure we are all equal, but Carl Jung said something like ... Being equal does not mean are the same.
Clearly, especially today more than ever, our weight is not the same.
Some ticket buyers weigh half, a third, a quarter, a fifth or less than other passengers.
Jet fuel is expensive, hence a large percentage of the price of a ticket.
Should we each pay only for the fuel we use?
IOW should lighter passengers pay less, and heavier passengers pay more?
I'm heavy and I vote, yes.
We should each pay for the fuel we use.
I don't mind that they weigh me at the gate.
I'm not a special snowflake.