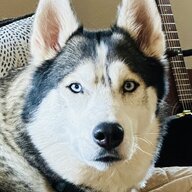 Joined

Aug 26, 2015
Messages

594
I have been on the hunt for a vintage marquise diamond. The first diamond that I found was a 0.69ct D SI-1 with bruted edges. The diamond flashed brilliant white light with some facets turning off and on but I felt that something was lacking. I was within the return window so I upgraded it for another diamond that they had in stock. It is a 3/4 ct very light pink color SI-1 diamond. It is bright and lively and sparkles so much that my iphone is having difficulty focusing to take a picture of it. The inclusions in the stone are a natural and feathers. This is a problem because there are feathers next to the tip of the marquise. Are feathers cracks? The diamond is from an art deco sunburst halo. I had an opportunity to purchase the ring but at dimensions of 20.7mm by 14.2mm it was a bit overwhelming for my rather short fingers. I am including the link to the diamond listing and I will try to include the only picture out of nine that turned out. I was up at 5am trying to take a picture of this diamond so just under indoor lighting conditions.
www.ebay.com/itm/172387534331?_trksid=p2055119.m1438.12649&ssPageNameSTRK%3AMEBIDX%3AIT
The listing includes the GIA certificate so that you can see the location of the feathers and a better color picture of the diamond than I am able to capture.
The question is given the location of the inclusions at the tip, will the tip likely break or chip if I set it? Should I keep it or send it back? If I set it should it be in a bezel or v-tip(the former setting was a prong set)? Would a professional refuse to set it?