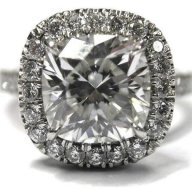 Joined

Mar 25, 2009
Messages

170
I sold my diamond recently. It was an egl f vs1. I had it appraised by an appraiser with GIA credentials as an F vs2. Buyer bought it and decided to get it GIA graded and inscribed with GIA number. But it came back graded F si2. He wants a refund but it is now inscribed.

My concern is that I never guaranteed GIA grading and I want to give a full refund. But, I am worried about what the inscription has done to the value of my stone. I think the market value of an EGL fvs1 is higher than a GIA fsi2. And now the inscription clearly identifies it as a GIA stone.

What advice would you give me? I want to give him a refund but he potentially reduced the mkt value of my stone by inscribing it. Can I get inscription removed without any harm or impact on stone''s weight, polish, etc? Or is there another fair resolution?

Please help.