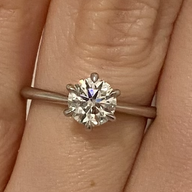 Joined

Mar 7, 2022
Messages

7
Hello, lovely PSers! This is my first post, but I've been lurking around here for about a year, and in that time I've learned so much about diamonds!
I want to buy a tennis bracelet (likely from
Whiteflash
) and am curious whether I ought to be trying to match the color grades and proportions of the diamonds in the bracelet to my engagement ring. Currently, I have a lovely 0.889 J VS1
ACA
in a platinum solitaire setting, so I'm wondering if a tennis bracelet (I'm debating between 3 and 4 cttw) made with
Whiteflash
's F/G melee would clash if I wore the bracelet on my left hand. Would any of you recommend asking them to source H/I melee instead, or in your experience does the color grade not matter as much for melee in the 5-8 pointer range?
I'm also a bit unsure what the proportions should be between a tennis bracelet and a solitaire. I'm tempted to go for the bigger 4 cttw (I love sparkles, hehe), but I want to wear the bracelet every day and not have it look overwhelming compared to my e-ring. This won't be an issue if I ever get around to upgrading, lol, but I need to wait before I start buying all the diamonds all at once. I'd love to hear anyone's thoughts on this!
Thanks all.