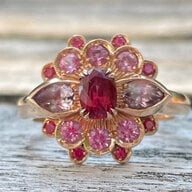 Joined

Jan 4, 2020
Messages

109
I contacted Andrew of Andrews Enchanted Gems (it is hurting me not to add an apostrophe in there) on Etsy a mere two weeks ago to ask about paraiba YAG. He didn't have any, but he quickly found out he could get some and ordered it right away. I told him what I wanted (something in the realm of an 8x10 emerald cut) and he said he'd get to it as soon as he had it. He didn't make me pay a deposit and said I was under no obligation to buy if I didn't like it, which seemed more than reasonable to me.
I ended up with a 10x7ish emerald cut and it is GORGEOUS. I could've waited for closer to a 10x8, but I kind of liked the thinner look of this one, so I snatched it up for about $180.
This is the second gem I've bought from him, but the first I custom ordered. Mine were both lab material, but he cuts some natural stuff, too.
Hard to get an accurate color in these photographs, but I did as best I could!