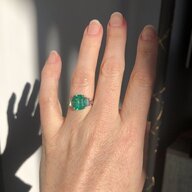 Joined

Sep 25, 2008
Messages

2,415
Hi everyone,
Link to my
Original thread
I am
incredibly confused
by my parcel tracking. Purchased a bangle on 23 April from N BILLERICA, MA (wherever that is!) USA and so far it's been to New York, Chicago, Jamaica. LA and even
CHINA
- all few times over... I get it Covid-19 has delayed shipping times but seriously cannot understand this shipping trail. It just makes no sense at all!
Link to tracking
Australia Post and GlobalPost International both just say it's waiting in NY to come to Sydney. Thoughts? Why do the trackers vary so much?
23 May 202000:00

In Transit to Next Facility

USPS
22 May 202007:14

Processed Through Regional FacilityCHICAGO IL INTERNATIONAL DISTRIBUTION CENTER

USPS
22 May 202007:14

Processed Through FacilityISC CHICAGO IL (USPS)

USPS
22 May 202004:15

Arrived at USPS Regional Origin FacilityLOS ANGELES CA NETWORK DISTRIBUTION CENTER

USPS
22 May 202003:00

Accepted at USPS Origin FacilityINGLEWOOD, CA 90301

USPS
18 May 202019:00

Arrived at Regional FacilityJAMAICA NY INTERNATIONAL DISTRIBUTION CENTER

USPS
18 May 202017:52

Processed Through Regional FacilityLOS ANGELES CA INTERNATIONAL DISTRIBUTION CENTER

USPS
18 May 202017:52

Arrived at Regional FacilityLOS ANGELES CA INTERNATIONAL DISTRIBUTION CENTER

USPS
14 May 202018:47

Shipment Received, Package Acceptance PendingJAMAICA, NY 11430

USPS
14 May 202000:00

Pre-Shipment Info Sent to USPS, USPS Awaiting Item

USPS
13 May 202001:40

Processed Through FacilityFUZHOU EMS, CHINA

USPS
13 May 202000:23

Processed Through FacilityFUZHOU, CHINA

USPS
13 May 202000:00

Pre-Shipment Info Sent to USPS, USPS Awaiting Item

USPS
11 May 202011:48

Customer enquiry lodged

AUSTRALIA POST
11 May 202001:51

Processed Through FacilityGUANGZHOU EMS, CHINA

USPS
09 May 202010:37

Processed Through FacilityZHENGZHOU EMS, CHINA

USPS
09 May 202008:02

Processed Through FacilityZHENGZHOU, CHINA

USPS
06 May 202023:24

Processed Through FacilityGUANGZHOU EMS, CHINA

USPS
04 May 202000:00

Pre-Shipment Info Sent to USPS, USPS Awaiting Item

USPS
01 May 202008:38

Processed Through Regional Facility. Your item was processed through our JAMAICA NY INTERNATIONAL DISTRIBUTION CENTER facility on May 1, 2020 at 8:38 am. The item is currently in transit to the destination.JAMAICA NY INTERNATIONAL DISTRIBUTION CENTER

USPS
01 May 202008:38

Arrived at Regional FacilityJAMAICA NY INTERNATIONAL DISTRIBUTION CENTER

USPS
01 May 202008:38

Cleared and awaiting international departureNEW YORK (US)

AUSTRALIA POST
01 May 202008:38

Arrived at Regional FacilityJAMAICA NY INTERNATIONAL DISTRIBUTION CENTER

GLOBEGISTICS
01 May 202008:38

Processed Through Regional FacilityJAMAICA NY INTERNATIONAL DISTRIBUTION CENTER

GLOBEGISTICS
01 May 202008:38


ARRIVED AT INTERNATIONAL SERVICE CENTERISC NEW YORK NY(USPS)

GLOBEGISTICS



01 May 202008:38

INTERNATIONAL DISPATCH READYISC NEW YORK NY(USPS)

GLOBEGISTICS
01 May 202000:38

Processed Through Regional FacilityJamaica Ny International Distribution Center

CAINIAO
30 Apr 202017:29

Shipment Received, Package Acceptance PendingJAMAICA, NY 11430

USPS
30 Apr 202017:29

Received item from Sender (Outbound)US-11430, UNITED STATES



Shipment Accepted by the USPSJAMAICA, NY 11430

GLOBEGISTICS
30 Apr 202012:09

Shipment In Transit to Destination

GLOBEGISTICS
30 Apr 202011:56

Dispatched by US CarrierHauppauge, NY 11788

GLOBEGISTICS
30 Apr 202011:55

Departed Shipping Partner Facility, USPS Awaiting ItemHAUPPAUGE, NY 11788

USPS
30 Apr 202011:55

Departed Shipping Partner Facility, USPS Awaiting ItemHAUPPAUGE, NY 11788

GLOBEGISTICS
30 Apr 202010:25

Sorted by US CarrierHauppauge, NY 11788

GLOBEGISTICS
30 Apr 202009:29

Shipment Received, Package Acceptance PendingJamaica, 11430

CAINIAO
30 Apr 202003:55

Departed Shipping Partner Facility, USPS Awaiting ItemHauppauge, 11788

CAINIAO
29 Apr 202016:31

Shipping Label Created, USPS Awaiting ItemHAUPPAUGE, NY 11788

USPS
29 Apr 202016:31

Scanned at Globegistics JFK FacilityJFK Processing Facility

GLOBEGISTICS
29 Apr 202008:31

Shipping Label Created, USPS Awaiting ItemHauppauge, 11788

CAINIAO
27 Apr 202020:02

AcceptanceCHINA

USPS
25 Apr 202006:15

Processed Through Regional FacilityLOS ANGELES CA INTERNATIONAL DISTRIBUTION CENTER

USPS
25 Apr 202006:15

Arrived at Regional FacilityLOS ANGELES CA INTERNATIONAL DISTRIBUTION CENTER

USPS
24 Apr 202002:01

Arrived Shipping Partner Facility, USPS Awaiting ItemHAUPPAUGE, NY 11788

USPS
24 Apr 202000:00

Pre-Shipment Info Sent to USPS, USPS Awaiting Item

USPS
23 Apr 202018:01

Arrived Shipping Partner Facility, USPS Awaiting ItemHauppauge, 11788

CAINIAO
12 Apr 202000:53

Processed Through FacilitySHENZHEN EMS, CHINA

USPS
12 Apr 202000:22

Processed Through FacilitySHENZHEN, CHINA

USPS
11 Apr 202021:54

AcceptanceCHINA