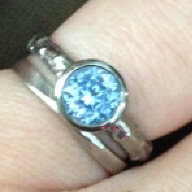 Joined

Feb 5, 2011
Messages

189
We got our engagement photos back a week ago, and our photographer did a wonderful job-- she took a lot of pictures, and edited and sent us back over 50 pictures! Most of them are pretty great (I'd say I dislike how I look in about 10 of them, which is a great ratio-- trust me!), but as I prefer to keep my anonymity on a public forum, I don't have many to post (they lose something if you blur out the faces).
I also have an issue posting new threads about just *me* or *us* so I thought maybe it would be nice to start a general thread for posting engagement pictures, if you don't want to start up a new thread for yourself (or if, say, you only want to post one or two pictures from your shoot).
If you've already posted a thread on your own, or you'd like to post your own thread, maybe you could include a teaser photo from the shoot and a link to your thread, similar to the Pricescope Wedding thread?
Here's my contribution.