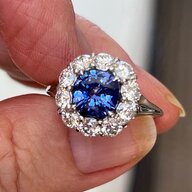 Joined

Aug 18, 2013
Messages

7,672
So at the beginning of this year I started working out again in an effort to regain the level of fitness I had before my back blew out 15 years ago and spent a year on my stomach and 3 years in recuperation and physical therapy. I don't think I'm even half way there yet, but I've made some significant strides so far, helped in large part by the online workouts that seem to be springing up daily during the Covid era.
I thought perhaps that there might be some people who might appreciate these workouts, and that everyone might like to add any online workouts they've found helpful also. I'm looking
specifically and only for free workouts.
Here's a few of mine - and pls - feel free to add yours too so we can get a library of them together.
Pls also be sure to add the level of difficulty and/or age group for which your workout is pitched.
Firstly - the queen of at-home workouts - Leslie Sansone.
If you're out of condition, if exercise is foreign to you, if you're older rather than younger, or if you just hate it and want to start slow - this is the video I used. it's the first half of a 30 minute walking video, and I'll add the second part as well. Leslie specializes in multi muscle walking - ie full body tone ups - and it's a far better workout than just walking.
part 1:
Follow it up with this -
part 2:
Interestingly, this next video, made with a bunch of seniors, is more difficult and a step up:
Next is Schellea Fowler - a fellow Aussie. This video is just 20 minutes, and one mile of aerobic walking. But it's energetic and works the arms more while walking. Again, this one is reasonably gentle but does require some degree of fitness:
Next up is Caroline Jordan and seated cardio. great if you have an injury, but don't fool yourself that this is a doddle - it isn't! This will work your abs and lift your pulse. I wouldn't start with this and I wouldn't recommend it for anyone with a very weak back, but it should be fine for anyone following even a basic exercise routine after a couple of months:
I'm now regularly doing *this* workout - a boosted walking programme with HIIT (high intensity interval training). Be aware, this has jogging in it and will require some degree of fitness:
https://www.youtube.com/watch?v=cvEJ5WFk2KE
I do *this* video daily. it's only 10 minutes, but it's all abs:
https://www.youtube.com/watch?v=pdC3OfWI5cw
My favorite online yoga teacher is Christel Joy Johnson:
She has a paid site on Patreon, with classes starting at $15 a month, but she also often posts free content on Youtube.
I hope this is of some use to someone and am hoping we can put together a library of
free
, useful stuff to use during the pandemic and beyond.
Last edited: