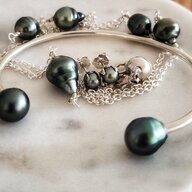 Joined

Nov 27, 2009
Messages

1,573
So I was torn between putting this in hang out or rocky talky or here because I am honestly not sure what I will or can do yet. If I'll be able to afford my mined black diamonds or if I will need to go lab sapphire. Anyway this is rambling but it all connects to title eventually >.<
So sometime in January I lost my very precious to me black diamond band (mined). And after looking around for a while I finally called my insurance on wedsday to jut find out what steps to take if I did decide to put in a claim. Come to find out that my appraisal is extremely old and is only insured for 1400 dollars. So I know I'll be out of pocket no matter what.
So now we come to the sensory issues part. For some reason, especially lately. I am finding if my ring band isn't a specific and kinda wierd shape I cannot wear it. I had previously resized my beautiful ring and was wearing it. Only to find that even it was bothering my skin, when it didn't used to at all. So when my local store had made a couple of test bands wearable for me again. I took my ring from its locked up spot and put it in my Please Remember You NEED To Bring Me spot. Which is a small box out in a drawer in our room. Typically only plain spacer bands reside there but I had thought we got my 4 year old over her constantly getting in there and taking my stuff. And I really needed it to be there where I could remember to drag it to the jewellers to get it shaped so it could be comfy again. I had plans to take it in within a couple of weeks. Well I'm a SAHM who doesn't go anywhere much so all my days that aren't therapy days blend together. So at some point I checked my box since I check it a decent amount due to the ringnapping my daughter does and find it gone!!! We look for some weeks and it's just nowhere that we can find. And so now I have to figure out what I should do. I don't know what I should even replace it with if insurance is even willing to help me.
i love the look of my moissanite 5 stone ring but it actually causes pain to wear. The band portion is amazing and feels great but the stones seem to be too large and cut into my fingers. And the bridgeish portion on the inside feels too sharp and is unable to be made softer. They are 5x3 mm or something. So obviously emerald cut stones that size with a bezel set in the same way Is a big nope.
It was suggested to me that channel could work but I was shown a big chunky channel and did not like that at all. And I would have to be sure it had an inside that could be adjusted properly. I have a white diamond band I don't even wear because of it's bad for me shape. It's flat everywhere. I just cannot wear anything with a flat shape on the inside. Period. Even a comfort fit is too sharp these days for my skin
I'm considering doing a 5 stone with just slightly less than full coverage across the top of my finger so that when they are together I just touch smooth band. Or maybe a thinner channel could work? I don't even know. I tried on so many bands the other day. There was only one in store that didn't automatically make me feel sore but I'm worried it might make me feel sore later on if I went with it anyway.
So if anybody is still reading my rambles who has any similar issues. What kind of wedding band did you choose? Is it still comfortable after a long time? I'm just not sure what to do anymore.