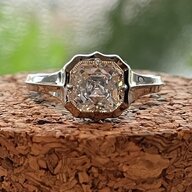 Joined

Mar 2, 2013
Messages

6,292
I am considering embarking on a middle finger criss-cross ring project using some of my loose diamonds - an approx 4 mm ACC/OMC for the center, and eight approx 2 mm round OECs. I am NOT a visionary, or good at creating original concepts, eyeing proportions, etc., and I REALLY suck at drawing things out, so bear with me here please. Overall, I know I want a modern-feminine feel with a tasteful punch of sparkle, but the devil is in the details, so ... pictures first.
Now the details - My thoughts are to go with white gold (undecided on plated vs unplated, metal finish, etc), with the ACC/OMC kite-set & bezeled, then have the smaller stones gypsy/flush set into the bands. The ring size for this finger is 8 1/2, so I *think* there is sufficient real estate to manage this. Are the smaller diamonds too big for such a project (keeping in mind they would be gypsy/flush set, covering some of the edge)? How wide might the bands need to be to accommodate the side stones (I would be okay with them being a little 'bulky/bold" as I don't particularly care for super delicate/thin bands)? Straight or swoopy style bands? The latter makes me think it might appear less bulky but still not too delicate looking, while still providing the punch of sparkle. Polished or satin finish? Definitely don't want too much 'texture' (such as milgrain) as it would irritate the neighboring fingers.
I know those were a lot of thoughts/questions. But you all have WAYYY better experience, eyes & vision for these things than I do. If anyone owns any similar style rings or has a link to one, please post/link them. Most of what I could find when searching were only pave on both bands or more 'tighter'/twist-style bands without much space between the bands, which is not the look I'm going for.
Lastly, any thoughts on a good bench to approach with this? I don't have a set budget yet for the project, and since I'm providing the diamonds, I'm not sure what a reasonable budget expectation might be for this. My goal is to (hopefully) get some valuable input from the experts here to pin down the overall design/look, then approach a couple of the PS vendors for estimates. But it would be helpful to know what ballpark ($1k, $2k, etc.) this may be in so my expectations are reasonable on approach.
Thanks much in advance for your thoughts, input, suggestions, etc.

I'd really love to embark on this with valued input from the PSers, detailing the process along the way, and resulting in sharing what I hope to be a fun new addition to my ring rotation.