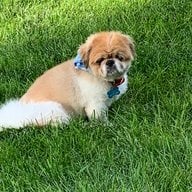 Joined

Aug 2, 2018
Messages

52
Hello Fellow Lovers of Beautiful Things:
I'm a long, LONG, time lurker making my first post. I've learned so much from this amazing group of folks, who so generously share their wisdom and feedback. Thank you so much!! I'm finally coming out of the shadows to ask for your guidance.
In the not too distant future, my Mister will be giving me a ring. I want something very special. We're not getting married so this will be the outward manifestation of our private commitment. Kind of like the world's longest engagement.

I really want to create something unique. The stone will be a blue sapphire. (September is a very special month for us.) The setting will be yellow gold.
I've started a file of blue sapphires that represent the color I want. Sort of an electric blue/royal blue but I learned here that stones will darken when set, so I'm going to need some feedback from y'all when I start seriously looking. I know it has to be certed and I do not care if it is heat treated. Besides a gorgeous, saturated blue, I want good finger coverage, as I'm a bit of a size whore.

I'm afraid to start looking now and get my heart set on something that sells before we're ready.
I've read many of your wonderful stories of creating rings but I'm still not sure how it all works and what I need to know/consider. I have many lovely pieces I've purchased in stores but after reading here for the past year, I believe we can get the best value and design by working through the vendors recommended here. Here are my questions:
Do you have to buy the stone and setting together? Is it insulting to a jewelry to bring them a stone purchased elsewhere and ask them to design a setting for your stone?
Is it appropriate to ask to see the stone in person? I've read stories here where the person is simply getting pictures/videos and other stories where the person had the stone sent to them for their review. If I'm spending several thousand $$ on a stone, I really want to see it first.
What are the advantages and disadvantages to buying a premade setting and having the stone set vs. designing the entire project?
I'm not completely sure of what the setting will look like but I envision some diamonds most likely pave. Do I need to supply these as well since I'm providing the center stone or do designers usually have these as part of the tools of their trade?
I know the sapphire needs to be certified, but how do I know that the diamonds are going to be high quality? Is it a matter of trusting the integrity of the designer? I'm assuming you only certify the larger stone.
I know that every project is unique but is there a ballpark figure I should keep in mind regarding the fees to design and make a custom ring?
How long does the process typically take from when you make contact with the designer until when you receive the finished piece?
What pitfalls should I avoid? What do you wish you knew before you started down this path?
If you're still reading, thank you for taking the time to do so! I'm sure I'll have many more questions once we really get started with this process.