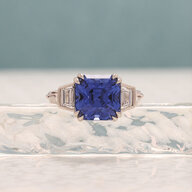 Joined

Feb 21, 2010
Messages

303
The big old oval center stone with seed pearl surround is such a common period piece from the 1900-1920's. Let's start a thread for them. I feel like these were from the first antique style a lot of us saw in our grand mother's jewelry boxes that was older than Art Deco or Art Nouveau.
Here is mine - big honking amethyst in filigree WG. It was a gift from my grand father to my grand mother when they were dating in the 1920's. Everything is original and the rough facets on the stone speak to
how much my grandmother and my mom wore this.