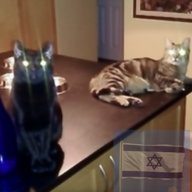 Joined

Jun 8, 2008
Messages

50,133
http://www.bbc.co.uk/newsbeat/article/36292937/oldest-cat-in-the-world-scooter-dies-aged-30
A Siamese cat recently named by the Guinness Book of World Records as the world's oldest living has died.
Scooter celebrated his 30th birthday on March 26.
His owner, Gail Floyd of Mansfield, Texas, has said he had died by the time Guinness confirmed his title on April 8.
Doctor Tricia Latimer, a local vet, says Scooter had lived to the equivalent of about 136 human years.

Owner Gail said Scooter had lived so long because he stays active and keeps busy by travelling.
Apparently he had visited 45 of the 50 states in America.
Some of his favourite activities were said to include getting blow-dried after baths and snacking on chicken every other day.
She adds that as a kitten, Scooter liked to play in her hair and even got used to riding on her shoulder, going with her wherever she went.
He used to wake her up every morning at 6am, "talking" and jumping around, and was always waiting by the door when she arrived home from work.

Scooter wasn't Guinness World Records' oldest cat of all time though.
That honour belongs to a fellow Texan cat, which lived to be 38.