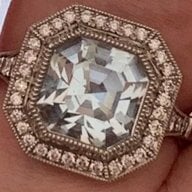 Joined

Nov 16, 2015
Messages

1,113
I made this sapphire ring with deBebian's a few year's ago with with a 4.76 center natural sapphire that I inherited. I love this ring but the darkness in the center bugged me which meant I didn't reach for this ring as often as I should. It was just too expensive of a setting to let it sit in a ring box. Since the center is quite a large,, I decided to look for a high quality lab. I got this beautiful bluish/purple perwinkle sapphire that is 12x10. I also made a small change to the pear's to lift them up. They originally were pinned down because I was worried about the width of the bridge across my finger. After receiiving the ring, I can see it wasn't going to be a problem so I raised the .66 tcw VS1 G pear's to make it look more like a proper 3 stone. I am waiting on another ring right now before this ships but I wanted to post pics of the changes.
The old sapphire feels like it is meant to be in something like a Princess Di halo. I might try something with some large halo rosecuts or OEC's to give it a vintage look since it is a very old stone. I am super happy with the color. It is a nice match to go with the station necklace he made me last year. The two together are a quick dress up for a jeans look. I will post some pics/videos when I receive it.
I am a little sad that my jeweler has a smaller and nicer finger than me!