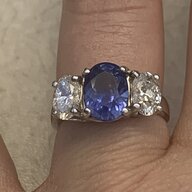 Joined

Aug 10, 2011
Messages

26
I made an inquiry about the stone below:
http://rockdiamond.com/index.php/je...pphire-oval-shape-beautiful-bright-blue-r4190
I asked about the grading for tone and color on the stone, but the seller did not have this information.
1) should I be skeptical of the seller?
2) I would like opinions on the stone.
I'm looking for an oval sapphire that is medium to medium dark in tone.
Thanks in advance.
Also suggestions on other stones would be much appreciated. I did correspond with Jeff White about a sapphire, but he doesn't have what I'm looking for right now.

The process continues.