Hello! I'm coming out of lurkdom to show my RHR eternity u-prong sapphire/diamond band from
IDJ
!! I poured over the forums and got so much useful information on eternity rings!
Here's my backstory: Decided to get a RHR for my 40thbirthday- first real jewelry purchase since my wedding rings and first online jewelry shopping experience. I was super hesitant to buy something like this online, and also looked at ETSY, but ultimately decided to go with
James Allen
since I could return easily. I originally bought this ring from
James Allen
right before xmas with the 25% off sale (
https://www.jamesallen.com/fashion-...sapphire-and-diamond-eternity-ring-item-67836
). It was a little too snug (size 6.5) and while it was very pretty, the sapphires were a little darker than I liked. I was debating to resize- but at
JA
they could only do half sizes (for this ring at least) and I was pretty sure 6.75 was really what I needed and wasn't sure if 7 would be too big. Also, after trying the ring on, I did want to go with a little bigger stone size Right before I was going to send the ring back to
JA
to most likely resize to a 7, I decided to just e-mail
IDJ
and see what they'd say. So glad I did!! Yael quickly e-mailed me back and was fantastic! She was super patient in answering my many questions and I decided to go with them and return the
JA
ring. I had no issues returning the
JA
ring in the 30 day window, so really was a good experience there! The
IDJ
ring came out better than I could have imagined- just stunning!
These forums were very helpful since I never went to jewelry stores to try things on. And I really had that same fantastic experience from
IDJ
that I had been reading about. Yael helped me settle on a bit larger stone size and get a better custom fit. Highly recommend!! Here is my ring: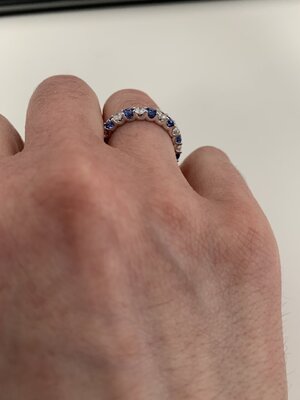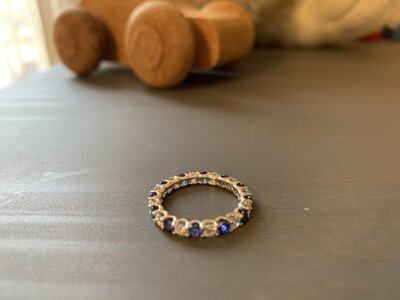 "Pricescope diamonds" (F color, SI1, ideal-excellent cut)
~2 ctw (12 diamonds & 12 sapphires). I think the diamonds averaged around .077 in size which I think is a perfect size for me)
Size 6.75