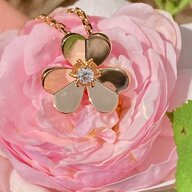 Joined

Mar 6, 2014
Messages

346
After countless hours of searching and reading PS forums, I'm finally ready to post my own topic.
My lovely husband has agreed to buy me a ten year anniversary ring, once I choose every detail myself.
Aside from my wedding rings, this will be the only ring I wear. At first, I fell for the sapphire Tiffany Soleste, but thanks to PS I discovered that there are much better and less expensive options. After contacting the usual suspects for halo settings, I've tentatively decided to get an Emilya with filigree basket from Victor Canera.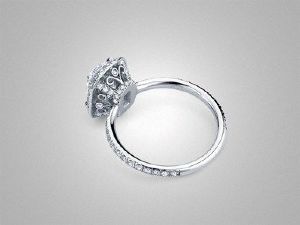 The hard part is finding the perfect sapphire. I knew approximately nothing about sapphires before PS, but I have some solid ideas of what I want now. My ideal: 2+ ct, round, vibrant med - med dark blue, clear enough to be sparkly. I'm not picky about heat treatment or minor inclusions. I've been able to see many in real life by visiting Chicago's Jewelers Row. Most were unimpressive and/or overpriced, but I found two contenders that are currently on hold.
#1 - a bit over 2 ct, heated, excellent color, saturated blue, nice sparkle, two tiny inclusions that are barely visible. ~$2500 (I forgot the exact ct and $)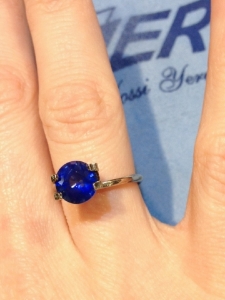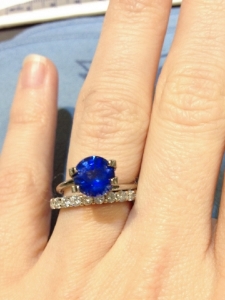 #2 - 2.78 ct (!), unheated, blue with lower saturation, the sparkle on this one knocked my socks off in real life (here's a video:
http://youtu.be/tmZKAvT_5BY
). Visible inclusion on the bottom left, but I'm not too bothered by it. The cut is a bit odd: very small table and the bottom is lopsided, though I'm told that will not affect the setting. My worry is the color quality. $3130.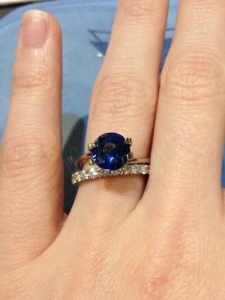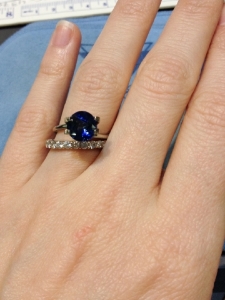 The perfect sapphire for me would be the color of #1 with the sparkle and size of #2. The helpful jeweler who found these two is going to keep searching and may have something for me next week. Fingers crossed.
The other option is a precision cut stone, hoping for great color and sparkle. I've been in contact with one well-recommended here, and he has rough that could cut a med-dark sapphire at 1.6-2.1 ct, one or two inclusions that should not be noticeable. Cost is a bit more than stone #2 above. I would hope for a super sparkly, 2 ct stone that's also vibrant and saturated, but while I trust that he would cut a beautiful stone, the unknowns make me a bit nervous.
I prefer to go with a sapphire I've seen in person, since I have good contenders, or a custom precision cut. Thoughts on these options?