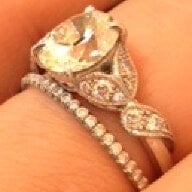 Joined

Feb 17, 2007
Messages

14,167
Ok, Mass, San Diego, now San Francisco.

FI and I are desperately trying to accomodate everyone''s preferences for our wedding while still making it us. My parents want it in MA, his in San Diego, and to make it more of a pain, we''re all paying part of the costs, so we aren''t tied to one place.

We haven''t found a ceremony location in MA or San Diego that really made our hearts sing, so we are thinking screw the parents, we''re doing it in San Francisco.

We lived there last summer and LOVED it. Hopefully going to be moving there after our degrees are finished.

IF we go this route, we were thinking of having our (tiny) reception at Greens Restaurant near Fort Mason park. So I was wondering if anyone knows of any great CEREMONY locations near there? Preferably something within walking distance and outside is preferred.

Does anyone know about the regulations for getting married in the parks there???

THANKS!!!