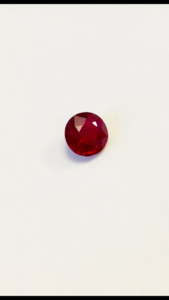 Hi all,
This is my first post here, hello to all.
I am looking to buy an engagement ring, which will be ruby as my other half doesn't want diamonds and we both love the significance of a ruby.
First stage is to find the ruby, so I have visited a reputable jeweller in London and my requirements were really:
Round (as per my other half's wishes) and a budget of about £5000/£6000 for the finished ring all in.
The jeweller contacted his suppliers and showed me three rubies: I ruled out two of them, one was an oval and one was a bit too pink.
Below is a picture of one I liked. It is a 1.17 carat round from Mozambique which has been heat treated.
I had a look at it under the loupe and there weren't many inclusions of note, it was pretty clean as far as rubies go.
What is interesting about it is that it has quite a large diameter (6.5mm) I believe for that carat, and that is due to the shallower cut. Despite this, in person it seemed to retain colour well across the ruby.
However, looking at the picture below (the only one I have unfortunately until the jeweller gets back from Xmas), I think there's a window probably due to the cut. Also looks slightly more pink than I remember but overall I really like the colour.
All in, an 18 carat gold solitaire setting with this ruby was coming in just shy of £5000.
Wanted to get some opinions from well-trained eyes on the ruby itself. And also, whether it is worth asking for certification.
Many thanks for any guidance.