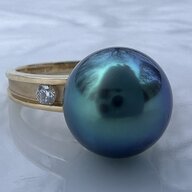 Joined

Jan 14, 2004
Messages

1,420
Do you remember the round aqua from Barry's April drop? The one he called the deepest colored aqua he had ever cut? Well, here are some pictures for you to enjoy. 4.18ct, 10mm, so it literally is humongous. And round cut is not common for aqua. As always, superb cutting by Barry.
Frankly, although it is indeed very deep color for an aqua, I still felt it is light colored and that could totally be my unrealistic expectation for an aqua. As can be seen in many pictures, the edge of the round tends to be quite light and the color is the deepest in the center. I told Barry that I want to return it, but boy, that's a very tough decision. It is SOOOO pretty and brilliant!
Tell me what do you think, okay?
First of all, vendor picture. As all Barry pictures,it is very accurate.