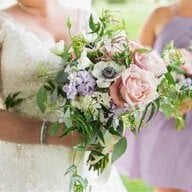 Joined

Feb 28, 2016
Messages

295
I entered a giveaway on Diamondsinthelibrary.com for fun, because there was a beautiful rose gold Jennie Kwon Buckle ring giveaway. I am a fan of the blog so I may as well enter because I had nothing to lose.
The next morning I got an email that I won, and I was so surprised!
It came in the mail around 2 1/2 weeks later, and I was having a really bad day. I was at work and I found out that my childhood dog of 15 years had to be put down. When I got home, my fiancé told me that I had a package waiting.


As a bonus, you can see the ring in the final photo I have with my dog, a few minutes before the vet gave a sedative. She was euthanized at home.

Sent from my iPhone using Tapatalk