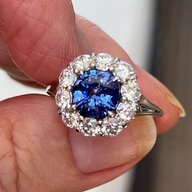 Joined

Aug 18, 2013
Messages

9,585
Well, I can only assume I was temporarily dead when these 2 gorgeous rings passed through SMTB!
@GeorgieQ
- these are both STUNNING!
I love a good gypsy ring, and this is a VERY good gypsy ring! I love the AVC cut, and this is the perfect setting for it. What a good eye you have, to go outside the box for something that really works WITH the stone. Nice job!
And your 5 stone...well! I've been a fan of smaller band rings set like this for some time (if you look at the thread by Niel "Just bands" you'll see my ring which is not dissimilar to this, tho it's an eternity - and also my 5 stone ruby and diamond band which is VERY similar to this). Anyway, all that to say, this is one of my all-time favorite ways of setting diamonds of this size - it's practical, elegant, and substantial - while still being a workable, safe, sturdy setting. But to do it in rose gold? Inspired!
Congratulations on these 2 beautiful additions and on your JOTW: well deserved!