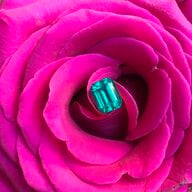 Joined

Apr 10, 2017
Messages

1,055
Hi all,

I came upon a gorgeous pair of amethyst and demantoid earrings on Romanov Russia's website, but remembered that somehow these look familiar...after some sleuthing, I found out that they sold a very similar pair a while back (slightly bigger with diff initials for maker). IMHO, finding two pairs of rare Siberian amethyst and demantoid earrings that look almost identical is like hen's teeth.

Here are the links to each:


What makes me hesitate is that otherwise the two pairs of earrings are almost identical in type of setting, gold, etc. I would also say many of their other pieces have a similar "style" and feel and makes me question where the heck are they getting these pieces???

What do you all think? Real antiques or possible reproductions? Anyone bought from them before?