Hi all, 1st time post from Ireland.
We are 1st time "considerable" diamond purchasers and are stuck between two rings from different stores so can't see them side by side
we have decided we like it with yellow gold and just a simple straight up solitaire.
Diamond one
GIA Certified
1.01c
Round Brilliant Shape
F Colour
VS2
Tripe Excellent (cut, polish, symmetry)
No fluorescence
Price: €9,100 with yellow gold mount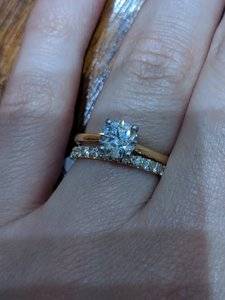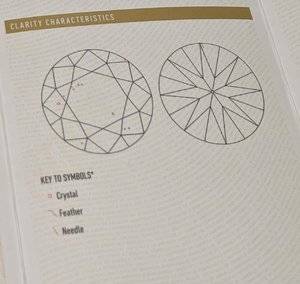 Diamond two
GIA certified
1.25c
Round Brilliant Shape
D Colour
SI1 - since we have no cert to show you, i'll try to describe it. It is eye clean but through the loop (magnified) on the side you can see a line left of center but with a few smaller feathers. The cert had multiple small markings on both diagrams.
Tripe Excellent (cut, polish, symmetry)
Strong Blue fluorescence
Price: €10,500 with yellow gold mount
No picture or cert for this one.
So while the larger carat is attractive, it is currently in a platinum band so it is hard for us to visualize what it will look like in a yellow gold setting.
The reason we have just the one picture is because the jewelers where the bigger stone is didn't allow any pictures nor to take a pic of the GIA cert. They were nice people but didn't give us a warm fussy feeling ! We found this to be in direct contrast to the other jewelers where they were super nice, told us to take pictures, brought us outside to the street for the natural light. Has put the ring away for us until Monday with no payment. We even told her about the other ring in the other shop and discussed that for a while with no attitude from her. I mean she was so nice and put us at ease.
While the budget is not the main factor in this decision, it is a consideration. We are more looking for a quality diamond that will stand the test of time. We have read also that sometimes bigger isn't always better quality wise. However what girl doesn't like bigger !!!!!!
We need help, guidance and your votes/opinions. We have spent all day discussing this and its starting to really stress us out. I mean we even got to the point of trying to toss a coin !!
Thank you so much for your help in advance