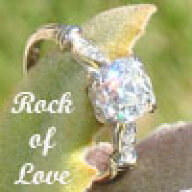 Joined

Jan 7, 2009
Messages

1,274
So, I made a trip to Robins Bros yesterday. I ONLY went in to try on some different settings after a girlfriend of mine insisted and wanted to play around. I was game, because I''m still undecided on my setting.
Anyway, I told them what I like (vintage-esque, but also classic/simple), and they basically said just look around and you can try on what you like. Great! So, I proceeded to start looking...and of course they are asking me questions - what is your timeline, what is your budget, blah, blah. I really didn''t want to share to much because I''m a PSer and I didn''t want to get into any sort of debate, ya know!?!
A little background...I''ve already been working with Jon at
GOG
to find a cushion...and I, of couse, want one of those difficult to find, antique-style, broad/chunky flash, etc., etc. which, again of course, no typical "maul" store knows about. BUT, when I do "give up" that I''m set on a cushion, so I''m looking for a setting to compliment that stone, the lady goes and grabs her "cushion expert." Oh know...here it goes...couldn''t resist.
Well, I thought to myself, if this guy really is a "cushion expert" maybe he will know what I''m talking about. I proceed to describe the type of cushion I''m looking for, and he started to get this confused look on his face! Stuttered something about old stones, sourcing this or that...basically it sounded like jibberish, he wasn''t making any sense, so I decided to move on and re-focus back on JUST settings.
Next thing I know, this guy walks over who is obviously the store "expert or manager or gemologist or whatever." He must''ve heard the discussion, or someone clued him in, so he starts asking me questions about the cushion. I, again, describe what I''m looking for. And, he proceeds to tell me that Robins Bros doesn''t/wouldn''t get that type of stone because they are not newly cut straight from the mine. HUH??

He said that all of those cushions that I speak of, are from "throw away" stones with chips/cracks/etc. that someone recut, and do not meet the "Robins Bros standards." His associate asked him if there weren''t any current cutters that are cutting these cushions. He said, "NO, not a one. These are all old, recycled stones." I said that I know for a fact that there is at least one cutter in NYC that is cutting cushions this way, and he said "No, there aren''t any." And, he continued on with something about if this cutter could *prove* these diamonds came straight from the mine and are new, then maybe they would be fit to source. HUH??

There was much more of the same...and I don''t want to bore you too much...but you get the idea. UGH! Oh why do I torture myself gong into these stores??? I need to keep my mouth shut. Just pretend I''m a stupid, silly girl looking for a "pretty" engagement ring and that I know nothing about diamonds.

Would love to hear all you PSers thoughts!! Ha ha!!