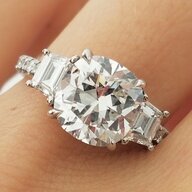 Joined

Aug 21, 2018
Messages

438
I need to decide on a ring size for my engagement ring, and am having a hard time trying to figure out what will work. I have some plastic sizers I have been trying on at different times of the day. In the evening I am a size 5 (goes on easily, 2-3 second tug over knuckles to come off), but if I leave the sizer on overnight I can't get it back off my knuckle in the morning. 5.5 is loose in the eve, and then I also have to tug a little to get it off in the morning if I sleep with it on.

The shank on my ring will be 2mm, and ultimately I will likely wear a spacer band of 1.8-2mm and an eternity band of about 2.5 mm. I can't go larger than 5.5 because that's way too loose in the eve, but also need to consider the final stack. Do you think 5.25 would work or should I go for the 5.5?

Also, I am measuring at a cooler time of the year and my fingers may swell with heat. But I have no idea what that would do! I know the ring can be adjusted, but I hate being without my rings!