I decided to keep this ring because I love the center stone. It is a created stone but I put it here because my question is about finding a new setting.
I don't want a very expensive setting because the stone is not very valuable. That makes it much harder to find, of course.
I think the center stone is 11x 9 but not 100% sure. Preferably: with large-ish round, clear stones around the center stone, but not nearly as large as the ones that are there now. Yellow gold around the pink stone but white gold around the clear stones surrounding it. The band in yellow gold. Anyone know where I can get that or something close to it for under $500? I haven't found anything.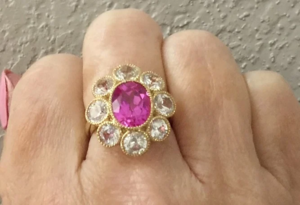 Last edited: