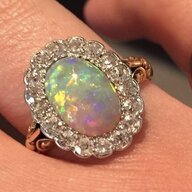 Joined

Oct 8, 2020
Messages

19
Hello guys.. just wanted to shamelessly show off my ring which has taken me almost a year to create! I started off wanting a cushion cut rectangular shaped center, in D colour with as minimal inclusions as possible- and of course the most fire I could find!
I wanted an an antique cut tbh however after months searching I couldn't find anything that was the right shape/fire/colour grade or it had a massive culet which I didn't like. In addition I didn't want a modified cushion brilliant, only cushion brilliant (less facets). It was proving almost impossible, I had asked several well known jewellers who although very nice told me they couldn't find what I wanted and what they had wasn't what I was after.
In the end I found the perfect diamond on 1st Dibs, in a horrible ring setting! D VVS cushion brilliant. It was perfect! It was located in LA (and I live basically the other side of the world!) so I had to wait patiently for it to be delivered.
I had already decided exactly how I wanted the ring and both jewellers who did the design refused to make it without using a center stone they had sourced. So I had to make it myself in the UAE. Having already researched on this forum I discovered Yoram at Gem Concepts who make amazing french cut sides, so I hesitantly emailed fully expecting him to say he would not ship to a private customer- but to my joy he did! I found a jeweller here who could design the ring and order the side stones from Yoram -and they designed it exactly to my specifications. It was cast - not hand forged, which I would have preferred however it is almost impossible to find that here and with COVID restrictions we weren't going back to the UK anytime soon.
So 11 months after I started looking I finally have my dream engagement ring which I will cherish for a lifetime.. it was well worth the wait!
thanks for reading my very long post and hope you like it
)