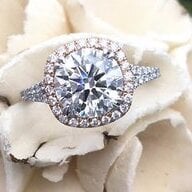 Joined

Dec 8, 2016
Messages

457
So, 2015-2016 was a truly terrible couple years for me. And I swear to you, I only got through the last few months thanks to the support of this community. You guys were my rock. From the supportive comments and advice on the forum, to the (flabbergasting and humbling) Go Fund Me you all started to help with our medical bills, to all the people who sent me personal notes and called, and emailed, and mailed all manner of amazing things to me, to all the PSers I met or have known in person just BEING there. I was lost, and you all tethered me. And I am grateful and indebted to you beyond words.

Things began to improve for us immediately in January. It was uncanny.
But it hasn't all been sunshine and roses. We lost another cat to FIP. This time our kitten, just 10 months old. There have been other downs, but that's life and for the most part (and with the notable exception of our Lily passing) it's been a balance of good and bad. The good primarily being a big shift in the state of our finances.

And as part of my story, some of you might remember that I had lost my engagement ring in November. And that it wasn't insured as I had cancelled my Jewelers Mutual policy due to finances.

Well, our apartment complex had a revision of their requirements for Renter's Insurance in January. So my husband had to call our insurance carrier. We've had the same policy/carrier since we've moved to CA many years ago. And 9 years ago, right after our wedding, we were robbed. Neither my husband or I remembered doing this, but apparently after the robbery my husband added a Jewelry rider to our policy for my engagement ring. And we'd never removed it!

When my husband was talking to the insurance company the rider came up. And we were surprised to discover that the loss of my ring was in fact covered. So we made a claim and negotiated with the insurance company for a replacement for my ring. What helped me the most was the INCREDIBLY detailed appraisal Neil Beaty had done on my ring after Steven replaced my halo. I can't go into detail about the new ring. I am no longer Gypsy and as a member of the trade, I am bound by different rules. But I did get a new ring a few weeks ago it is an old cut K color. I wanted something completely different as nothing could replace my asscher.

So... that brings us to today. We rearranged some of the furniture in our bedroom this morning. Afterward, DH went in to vacuum and I was in the bathroom cleaning and I hear a loud crack from the bedroom and DH shuts the vacuum off and we can't find anything wrong with it.

He says; it's time to empty it out anyway and it occurred to me to say: can you go through it, maybe it sucked something up?

Five minutes later: "OMG"
Me: "What?"
"Come here."

He's holding a very dirty asscher plain shank halo.

We found my engagement ring.

First call was to the insurance to explain that we found my ring. And now we are going to have to figure out what to do about that.

But... I am so happy to have my ring back!!!!!

And... I have been absent since my transition to trade, but had to share the ring story with all of you. Again, I am in your debt for all the love and support you have given to me. I miss you all very much.