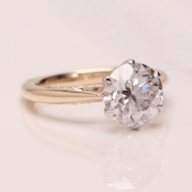 Joined

Aug 12, 2018
Messages

90
So I'm going a little crazy, because my absolutely gorgeous DK ring is HERE, hidden in the house. I've seen it in person, but I won't be able to try it on until he proposes. Since we custom designed it, we wanted to keep that part a surprise and something special for the proposal. Sounds good in practice, but it's absolute torture!!
I know he's going to propose before the end of June. We have a few trips coming up, but my guess is he's waiting for our 3 year anniversary on June 1 or a trip we have planned on May 1.
Anyways, I can't tell any friends or family about it, so I just wanted to share here. I don't have any pics of it in person unfortunately, but here's DK's instagram video:
https://www.instagram.com/p/BtwoXJVlEpH/
And I must say it looks so different and phenomenal in person!
I'm just so excited to be engaged to my best friend and favorite person. I've had a few long term relationships before, and I honestly didn't know it was possible to find a love like this. It's cheesy, but I can't wait to share and start planning the rest of our future.
I'm happy to stay patient, we're probably going to do a 2021 wedding to avoid conflict with his siblings 2020 wedding, so there's really no rush. But WOW is it difficult knowing that the ring is here!
I don't really have a question, just wanted to share! I'll take bets on when you guys think he'll propose, haha. And any advice on what to do while waiting!