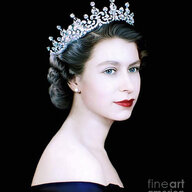 Joined

Oct 24, 2012
Messages

6,526
This coming year is my 10th wedding anniversary

Husband has given me the green light for a right hand ring & I am torn between 3 thoughts:
1. To have Caysie vB remake my antique pearl & OEC ring from my avatar. I have spoken with her (she's so lovely!) and she is happy to do it for me. The basket is so worn it has snapped in one place & is too delicate to fix - it was inherited & is estimated to be 110-120 years old. She is thinking the Magnolia with a few tweaks.
2. A stand alone RH ring. I have drooled over the Tiffany shared setting eternity for years so I could possibly scratch my Tiffany itch, or do I go for something with more finger presence than a claw set eternity? I would probably only be able too or afford 3 - 3.5mm wide from Tiff. Is that too narrow for stand alone & I should go for something more striking?
3. An eternity channel style setting that I can stack along side my current full 3mm princess eternity. I sometimes wear my eternity on my right hand when my hands are hot, however it's a teeny bit big on that finger & I worry I'll lose it.
The inherited pearl ring will be remade one day without doubt, as it is my treasure & has become unwearable, so do I save that project for a rainy day & take full advantage of husbands wallet being opened??
Do any of you stack eternity rings on your RH & can you show me a picture of how they look?
What would you do?