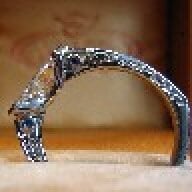 Joined

Feb 6, 2006
Messages

59
It took a while, but here is my review. I have a couple of posts that I''m going to put up.
1. My review (a synopsis is on top, since I get wordy)
2. GreenLake''s comments
3. pics from the process
(here''s the Show Me The Ring link to my ring -
click here
)
I hope people find it helpful...
My long over-due review of Greenlake Jewelry Works (http://www.greenlakejewelry.com)
To sum up for people who don''t want to read through the whole thing:
1. I love my ring. They did a gorgeous job on the hand filigree and engraving, including things they hadn''t previously done (the "leaves" on my filigree). I was also extremely impressed with Agnieszka's creativity with design. She really took my inspirations and turned them into a cohesive, gorgeous ring.
2. The price, while not cheap, was consistent with the quality of materials and workmanship (my appraiser told me this when I asked for his absolutely honest opinion). The jewelers in Boston that set my centerstone were also impressed with the workmanship.
3. The whole process did take longer than I thought it would (just shy of 3 months), much of which was my fault because I kept making changes. However, it took a month between casting and mailing out the finished ring, and I was orginally told 2-3 weeks. Since we didn''t have any timetable, this didn''t bother us and we didn''t discuss it with Greenlake.
4. Greenlake/Agnieszka couldn't have been more responsive to me and my concerns.
(Now for the long, wordy part. Feel free to skip)
So how did the process work?
So first a little about what I wanted. I started out wanting a Tacori Shamrock collection ring. However, when I actually got to see it in person, I decided it just didn''t "click" on my hand. Plus, I was leaning towards setting the marquise E/W instead of N/S, since I liked that on my hands better (a major problem in my ring search was my stumpy, short fingers.
After eliminating the Tacori, Dave and I went shopping online and in Boston and basically learned I was really really picky. What I really wanted to do was smush several rings together.
So I started looking for a place to custom do my ring. I knew I wanted platinum, and I wanted it to be antique-looking with lots of filigree and engraving. So I wanted to be able to see a lot of engraving/filigree work of the jewelers. Even though I live in Boston, I wasn''t too concerned about going online, since pricescope had shown me that you can get a lot of pictures along the way (although Leon Mage isn't the one to go with if you want lots of control apparently!).
Greenlake, if you look at their site, has quite a bit of engraving and filigree experience. So I started a "design page" in late February, asking about possibility/prices of two different design ideas.
Agnieszka, my designer, replied to me within 24 hours with a pretty detailed breakdown of the cost of each idea and suggestions for making it less expensive.
I responded with a couple more questions and a request for some sketches, which she posted within 4 days of my request.
At that point I decided on which design idea I wanted to pursue, and we discussed some more ways to keep the price down, and Agnieszka did some more sketches for me.
Then we had some back and forth about band thickness, I wanted the band to be as thin as possible, and Agnieszka was concerned about the sturdiness of the ring. I also wanted to add some extra stuff, but Agnieszka was able to explain why it wouldn''t look right.
It was her idea to keep the stone almost entirely exposed, with just the chevron tips holding it. We considered just having 4 prongs, which looked fantastic, but I wanted the tips since this is an everyday ring.
At this point I was ready for a CAD drawing, but not entirely comfortable with paying a nonrefundable 50% deposit. After talking with them, Greenlake allowed me to make a $150 deposit instead for the CAD drawings and wait till the CADs were approved before the rest.
So then came the first CAD. Lots of stuff wrong with it. None of the stuff we had spent time talking about, but a lot of stuff we hadn''t talked about or just mentioned briefly, which I had ideas on but hadn''t elaborated. So Agnieszka went with the standard thing for those aspects (i.e. I wanted a European shank, the CAD was just round, I wanted a flower, leaf and vine filigree/engraving, the filigree was just normal scrollwork).
Anyway, I let Agnieszka know the problems and she had another CAD out to me in week. This one was much better and the one we ended up using, however CAD apparently isn''t able to really show engraving, filigree, pave, or milgrain all that well, so the final ring was still going to be a bit of a mystery.
However, after the communication issue with the CAD drawing, I asked for drawings of what Agnieszka was envisioning for the filigree/engraving. I was able to email her some examples of what I wanted and she sketched out 5 different designs, the last of which I loved.
All of this took about 5 weeks from when I first contacted Greenlake. Then she sent me waxes and had me take the wax to the jewelers who were going to set the stone to make sure everything fit (I didn''t want to deal with mailing a loose stone cross-country, or I would have had Greenlake set the stone too just to be sure the fit was perfect. Although they would have charged almost 3x what Bostonian Jewelry charged me). At this point, Agnieszka let me know that the ring could actually be thinner then what we had originally agreed was the thinnest "safe" thickness - which made me very happy!
After I approved the wax (but changed my mind about the ring size), they made another wax and sent it to casting. This took about 3 weeks after I approved the 2nd CAD.
Then it was just a waiting game till the ring was finished. I got a email with pics of the ring, and unfortunately I was not really happy with the filigree. It looked very much like the CAD drawing, but I had been assured that CAD just didn''t show how the filigree would look. It was much too plain and chunky. I was ready to tear out the filigree and do something different, but Agnieszka convinced me to let the engraver put some veins on the leaves and do some engraving on the edges to make the filigree more continuous with the engraving. As you can see it came out gorgeous.
(As an aside, I could have ripped out the engraving and started over, but it would have counted as my "guarantee you''ll love it" do-over that Greenlake promises.)
SO it got shipped to me and I got the stone set and I LOVE the ring.
I'd just like to take the end to reiterate how creative and perfect this design is, and how much I have to credit Agnieszka with that. I can't draw AT ALL, so basically I sent her a bunch of "inspiration" rings and filigree designs and she managed to pull everything into a wonderful ring, better than anything I could have imagined. Without her great design skill, you can easily imagine a ring with as many different elements as mine looking like a complete trainwreck.
Greenlake/Agnieszka was great, very responsive and happy to work to resolve my concerns, whether it was getting me photos throughout the process, lots of sketches to make sure we were on the same page, allowing me to get the CAD without paying a full 50% deposit, etc.
The price was pretty much what I was quoted originally, despite quite a few changes to the design along the way. Like I said above, I feel it was appropriate to the quality of workmanship and materials.
So let me know if you guys have any questions and I''ll be happy to answer them!