Joined

Aug 20, 2020
Messages

2
I want to preface this by saying that I am no diamond pro and my assessment is solely based on what I can see with my eyes. For their preset jewelry, Vrai also doesn't give individual specs for their diamonds, and instead provides an acceptable range so I'm not sure exactly what grade this diamond is.
A little background:
The necklace I purchased is a 0.5 carat oval diamond in a 14k yellow gold setting,
this is the link
where you can choose a shape and preset sizes ranging from 0.25 to 1 carat. The 0.5 carat option I chose retails for $750, but there was a holiday coupon code for $75 off which brought the total down to $675. Lightbox was the other top contender in my necklace search and came in at $600 for a 0.5 carat in a 10k gold setting, but they only had rounds in that size. I really wanted an oval so I went with Vrai.
I placed my order on a Tuesday afternoon (1pm, to be exact) and stunningly received the necklace at 6pm THE NEXT DAY, just under 30 hours after I'd placed the order. I hadn't selected expedited or overnight shipping, just standard. Of course, your mileage might vary as I live not too far from one of their shipping sources (NJ), but I was very impressed with this.
Onto the necklace:
The setting I absolutely love. The chain is thin but feel sturdy and I appreciate that it can be worn at 16 and 18 inches. The little claw prongs holding the stone are well done and I really am a huge fan of the east west style. The setting never flips and the stone sits nicely flat at both lengths. One more note on the setting: the gold tone of this is quite warm and it looks more like 18k than my other 14k pieces, I happen to enjoy that look but keep in mind that this is not a blonde looking yellow gold. You can see the color accurately in the photos where I'm wearing the necklace and when it's laid on the teal background.
The stone parameters they provide are:
Diamond Size: 6.40mm x 4.55mm ± 0.1
Color: G-J
Clarity: VS2+
I don't own digital calipers so I can't speak to if the size matches up to the decimal places, but the stone I received is at least 6x4mm+ measured with a regular ruler and I'm pleased with how the size looks on me. The color definitely has some warmth to it, I'd say that it's probably an I or so. It's not noticeable when worn as I am a little tan so I don't mind this, but it is apparent when not worn as you can see in the photos. It's a smallish stone, and I can't see any inclusions with my naked eye so I'll take their word for the clarity.
Now, what I DO want to get the forum's opinion on is that I noticed when it's held up in very bright direct sunlight or when I shine my phone's flash on it I do notice a not insignificant bow-tie. I haven't been able to recreate this effect when it's worn on my neck (maybe my head is creating some shadows?), so I'm not sure if anyone will ever notice aside from me. And if we're being real, I'm rarely hanging out in bright, direct sunlight or the subject of extreme up close flash photography.
Also if Vrai makes no claims as to the cut and doesn't show actual photos of the specific stone would there be any recourse if I said the stone has a bowtie? To be clear, I do really love everything else about this necklace, it's the perfect every day size, the setting is great, the oval shape is unique and it performs great in my normal settings of indirect sun, overcast, and artificial light. Just not sure if this 'bowtie in direct sun' is one of those infamous mind clean instances.
What do you think?
Shaded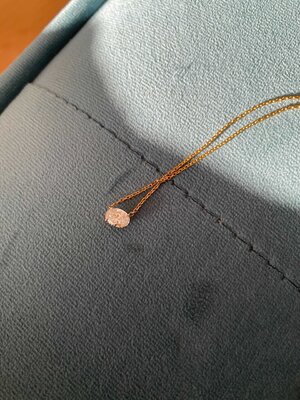 Overcast/cloudy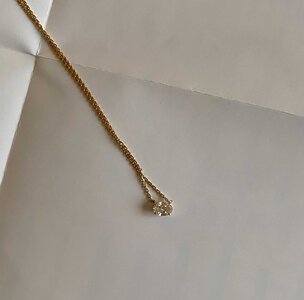 Indirect sun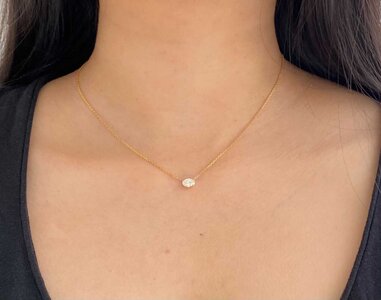 Direct afternoon sun