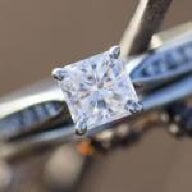 Joined

Jan 18, 2011
Messages

499
So after much thinking, I realized that the double-bling look (diamond band on engagement ring and diamond wedding band) was a bit too much for me. I think if my setting were pave I wouldn't have minded two diamond bands, but with the channel set it definitely felt like too much. I had 100 days to return my diamond band to the store, so I did that after 2 weeks of "sleeping on it."
As some of you may have read, I had a bit of drama when trying to find a plain white gold band because they didn't have anything in the store that I liked and the lady thought I was nuts. I just knew what I wanted. A 2mm white gold band that is the same thickness (height wise, as in how it stands off the finger) as my engagement ring.
I ended up not buying from them but instead getting it custom cast by a custom jeweler nearby. It was perfect first shot. I probably spent all of 10 minutes in their store total for both trips-- the one to commission the piece and the other to pick it up. It was so easy and painless.
It's perfect! I love it! And it doesn't hurt that it was $1,400 less than the diamond band
I think it sets off the engagement ring perfectly
(p.s. ignore my ugly nails, I got a manicure minutes after this picture was taken)