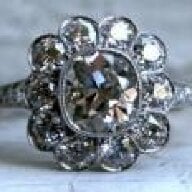 Joined

Mar 8, 2010
Messages

1,255
I can't tell anymore if I am being very picky, or not assertive enough. And if the latter, what should I do?
I recently took my ring in to get adjusted down in size a bit. It was just a bit too loose even with speed bumps. I took it to a local jeweler, with an in house bench, who has done resizes and done repairs in the past for me and I have been very happy. In fact, they resized another ring for me (another ring also in platinum with speed bumps) at the same time as the subject one and did an excellent job!
This is what it looked like before (ignore the duct tape at bottom, I was trying to help it fit smaller, but I think you can still get some idea of how it looked/tapered. It is an old ring, but the shank itself was in great shape and while thinner it was not particularly thin from wear or beat up.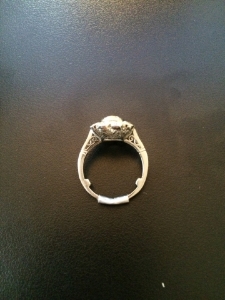 I wanted the speed bumps to remain as it is top heavy and I do have larger knuckles. I was sizing if down from about a 5.25-5.5 with the bumps to a 5 with bumps. I knew this could make it a bit harder, but I did not care if they built bumps up more or sized down.
So, first time I got ring back (they were backlogged and it took 2 weeks) it was way too small/narrow. I could get it on in store at first but then I could not even get it on or off over my knuckle except between 2:26pm and 2:46pm, and only if I had not eaten any salt all day. It looked PERFECT but too small. I don't have pictures of this.
So, I took it back the next morning and they were going to bump size up "just a bit". The benchperson had worried it might be too small.
I went back later in day to pick it and up and put it on and though I noticed the speed bumps were all but non-existent, it seemed to fit and so I took it home. Well, yikes, the thing spun like crazy - even though it fit - over the weekend and that would NOT do. Again, no pictures, but imagine the speed bumps being more like entirely absent and the band being a bit squared at bottom.
I took it back Monday morning. The benchperson guessed right away it was too big this time. I told them I needed the bumps. They told me they had gotten a bit flattened when she bumped it up. They agreed to build them back up. I picked up the ring the next day and it fit PERFECTLY but now it looks like this...does it not look very wonky to anyone else?: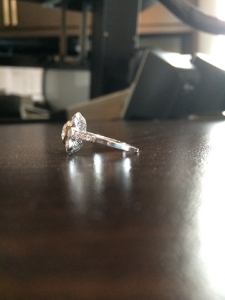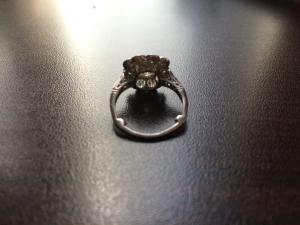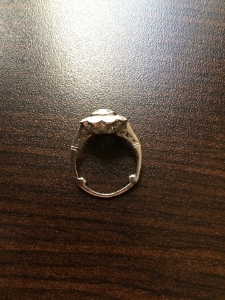 And is also very thinned out at shank - it used to be about 1.5mm wide, now it looks about 1mm, the "height" is also thinner, at about 1mm. You can kind of see the sudden taper here as well as how it "squares off" like some quasi euro-shank at the speed bumps: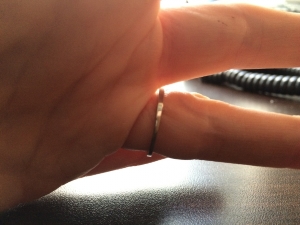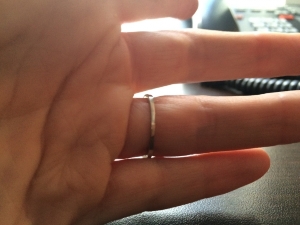 Again, it fits perfect, but this was bothering the hell out of me yesterday (mind clean thing). I emailed the business owner this morning attaching those photos and stating I am not sure what resolution is, but I am very unhappy with how thin it is is, and how wonky it is. I actually don't expect a perfect circle or anything, but I don't want it looking wonky either unless it was caused by me wearing it! I did not get a reply (and have not yet at end of day) but had an appointment near them so stopped in an hour later and talked to a co-owner, main owner's son. He told me only solution is to reshank it, which would be $800-900 (Canadian), because it has been worked on and resized so many times and is so thin from that. BUT I DID NOT WANT IT RESIZED THREE TIMES in the last week! I wanted it done once! He said that it was the right size was the important thing, and recommended I just wear it until it does break, if it does, and then we can fix it a couple times until it makes more sense to reshank. I admit I did not stand up enough for myself then - and basically just left - as I was so damn speechless. Like, dude, it was not my decision not to get the sizing right three times over! I don't have almost $1,000 to replace a shank either, nor do I think the suggestion to keep wearing it "until it breaks because we had to resize it three times even though we sort of knew it might not be right" is a great solution.
I went back to work and emailed the owner again to add I had seen his son, repeated what he had told me, and added that I was feeling very upset about this entire thing. That I knew my ring was never super thick shanked, but I certainly was not worried about the durability and it certainly had LOOKED a lot better, and that I wished I had stuck to the tape even though the fit was so much better! I still have not heard back, and I know they are closed for a week starting Saturday for holidays.
I don't know what to do. I have never had that kind of service from there before. I know I will never "see" the wonkiness when I wear it, except looking a little "square" at the bumps, but I DO see the thinness, and not only does it bother me but I worry about it even though I am very careful with my hands when wearing rings. I do want to see what the owner says, but I am not feeling very confident after the responses so far and wonder if I am the crazy one?
It bothers me even more that it fits perfect now, ha ha.