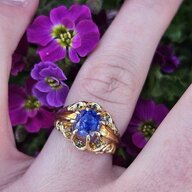 Joined

Apr 13, 2018
Messages

1,720
So.....
Finally a thread that reinforces the name that I chose when entering PS!
I swear I love garnets but hardly comment or post about them!
Anyways
, the time has come!
I purchased this very lovely mysteriously delicious dark & moody tsavorite garnet already set in a polished & substantial 14k yellow gold setting a few years ago. I'm sure you CS gals remember it as I've posted it here and there every now and then but never created a thread for her.
The tsav itself is 8x6mm and I wore the ring and enjoyed it for a year or two even though I knew that if kept, I would eventually reset it as it didn't match or go along with any of my other jewelry. I tend to collect pieces that are simple in that the stones are the star but that are composed with some feminine details & this setting just didn't mirror that or my style.
I had the setting cut off & sold for scrap which actually provided a surprisingly good chunk of change in itself. Now I just have my lonely tsav!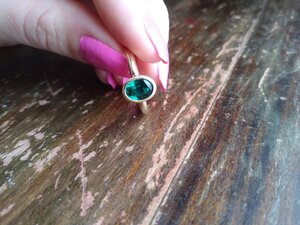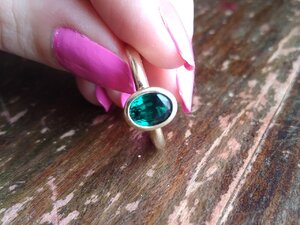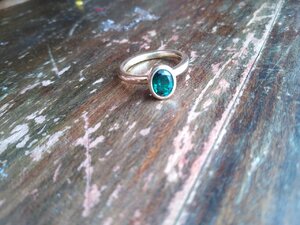 I'm totally enamored by this garnet & to be honest I haven't seen many that rival it that are the same shade and tone. Under a loupe I've also been unable to find any inclusions.
It carries such a strong blue modifier that is rare and special in my eyes.
I know for a lot or even most of you this stone would be too dark but it only adds to her glamour for me & creates a very visually interesting and moody stone.
Originally I had purchased two 4x5mm purple garnets from YvonneR and had planned on making a garnet birthstone ring for myself to rule all bs rings with a simple three-stone trellis design but when I received them I noticed that the garnets darkened the gem and instead of working together the two colors clashed slightly.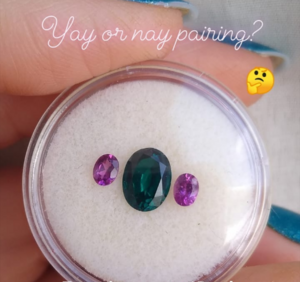 So back to the drawing board for me....
Until I was wearing my tanzanite ring & a thought hit me: I'm in love with this ring, what if I made the same style setting for the tsavorite, I did after all have 6 diamonds laying around!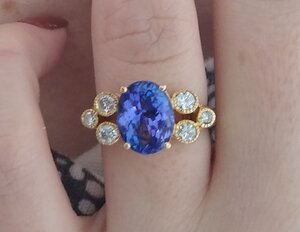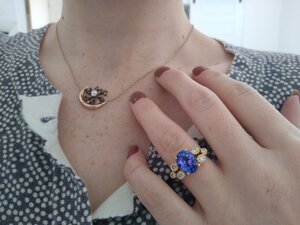 Low & behold when I arranged them they worked perfectly! So off my idea went to the jeweler and off to the races we go!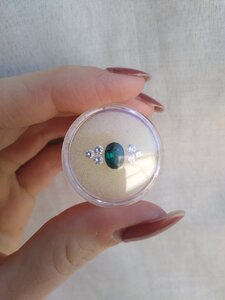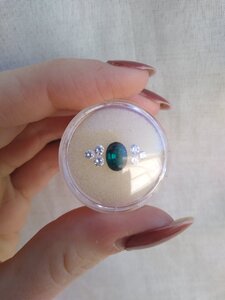 I'm thinking of keeping the yellow gold that the original plain bezel setting had as it seemed to play up the tsavorites color but I think I want to use 18k yellow gold and play it up even more! I usually only use 14k rose gold for any and all gems that contain blue & green but I'm not sure about this one...
Anyways I will post updates once details are sorted out & once it's all finished!!!!
I'm keeping the design in its entirety but changing a few minor things:
- Swirl art nouveau inspired "engraving" on the band instead of the chevron
- The tsavorite is more like 1.3cts instead of my tanzanite which is probably 2.5/3 yet the diamond proportions are still similar so the face will have a different look to it
- Not sure if I'll have miligrain done on the diamonds bezels or not, but if I do it will be hand done like my tanzanite ring
This will be my personal dream tsavorite ring so I cannot wait. It's also a project that I didn't expect to start for months so it's always exciting when I can move projects up!