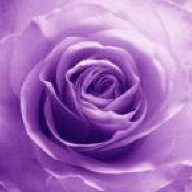 Joined

Jun 22, 2011
Messages

265
Hello dear CS PSers! It's been aaaaages since I've been on, but my husband recently reminded me that I get to pull the trigger on a 5-year anniversary reset (I had actually completely forgotten), and am in full decision-overwhelm! I could use your wisdom and brainstorming help... here are my thoughts so far:
Solitaires:
I am still drawn to the Margot solitaire (the last time I posted in my engagement ring thread I was pretty sure this would be the reset when the time came), but I also like this stuller setting:
https://www.stuller.com/products/bu...Id=198510&recommendationSource=CategoryBrowse
. The advantage of Stuller is that that would give me the lower-set and more refined setting I am craving without breaking the bank. I'm also unsure if my stone is quite big enough to not "drown" in 8 prongs (Margot).
3-stone:
I'm also considering setting it in a 3-stone with rounds, somewhat inspired by Meghan Markle's e-ring (pre-pave band). One question I could especially use your wisdom on would be if I were to go the 3-stone route, would antique cuts or round brilliants play nicer with my Portuguese cut spinel? I'm thinking stones in the 4-4.5mm range.
Insights into whether the 3-stone might suit my hand (vs. a delicate solitaire) are also welcome! I'm going to potentially venture out to try things on and will report back with pictures, but with COVID I've been a bit reluctant.
Finally, some pictures to help!
My stone: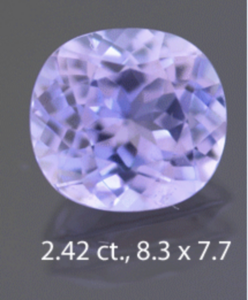 My current e-ring, which I find set too high and it's a bulkier band than I'd like for every-day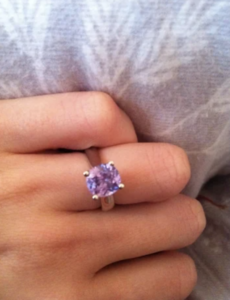 The Margot, which is how I think I'd set it in a new solitaire, although I wonder if 8-prongs will be too "cluttered"?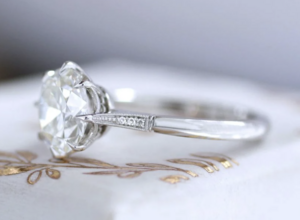 A Stuller solitaire I like: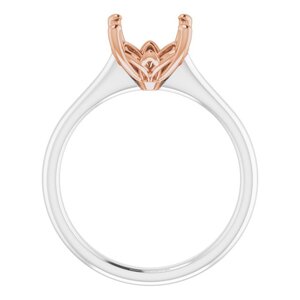 A 3-stone with the cushion/round pairing I like, and proportionally about right as well. I'd prefer pointed prongs, possibly with 3-prongs on the rounds. Do I go with Antique or RB sides?