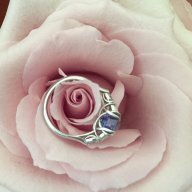 Joined

Oct 29, 2012
Messages

352
I started with SBear621's gorgeous three stone ring by Steven Kirsch. Back in the day BE was on the roll and producing amazing pieces.
I had requested them to work on a setting for my sapphire with pear sides and received the following CADs.I wish that the first set of CADs made my heart sing but something is missing...
My first comments were
My first set of comments are (that may not make sense
1. The bottom curve should be part of the main circle support instead of the outer one. That will help the top circle portion to be lighter and more delicate
2. The wire transition looks really awkward...
3. Remove center stone bar
4. I'm debating whether it would help if the center stone was slightly raised higher..
I'd really appreciate if I could receive some help from the eagle eyed ladies that could reinfuse this design with what made it so special