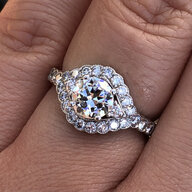 Joined

Mar 17, 2021
Messages

70
A few weeks ago, I posted here asking for help with the cut of my engagement ring center stone. I had considered replacing my main diamond for a few years now, as I realized a few years after we got married (and after having more exposure to diamonds) that my dull stone was making me not love my ring as much. Thanks to those who took time to read my thread and respond.
Today, I received my ring back from my jeweler with the new diamond. I hadn't intended on upgrading specs - I just wanted a better cut, but it just so happened that I got a nice little bump in stone specs along with a huge improvement in cut. The new stone is also graded as a VS2 but the single feather is on the underside near the corner and the plot overall is super clean.
Because of the larger size, I was able to fill the air line/gap in my halo setting - again, wasn't really something I necessarily wanted to do because I never minded the really thin airline that I had, but WOW the difference is huge! Thanks to the poster in my other thread who suggested I go a little bigger to fill the air line.
Old stone specs: 0.70 ct, G VS2, princess cut, excellent polish and very good symmetry
New stone specs: 1.00 ct F VS2, HOF Dream cut, excellent (GIA)/ideal (AGS) polish and symmetry
Now (left) and then (right). My old diamond looked dirty even when it wasn't, though it was a G.

Old stone (on ring) and new stone (on tray). The day I finalized my decision:

Video of old stone:
Note it's watery and kind of dirty looking even though I just cleaned it for this photo. The sunlight was maybe going straight through, making it look tinted?
New stone in shade
New stone in sunlight

I wanted high contrast and clear faceting pattern, things my old diamond didn't have. The new one delivers: