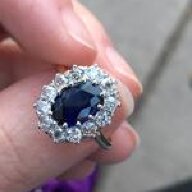 Joined

Nov 3, 2016
Messages

20
Hi all,
I started lurking this forum when I was having our wedding bands custom designed, and now I find the need to create an account of my own to seek out your advice about some heirloom pieces that were just handed down to me.
I am going te be bringing them to the jeweler who did our wedding rings, but before I do I would love whatever input you have!
Both rings are sapphires. The larger one is an oval sapphire with diamond cluster halo (I think that's what it's called?). It was my great grandmothers ring and I'm told she wore it almost daily. My mom and aunt believe it pre-dates WWII. My mother had two of the diamonds replaced in the 80s and she tells me the diamond prongs are platinum and the rest of the setting is gold, although I don't know the k since the stamp has long worn off. The ring is about a size too small for me to wear. The sapphire has some surface abrasions and I'm hopeful they can be polished out. Obviously the prongs need some TLC.
My questions regarding this ring:
Do those abrasions look like they can be polished out?
Do you think the overall integrity of the ring can be maintained if the prongs are repaired?
Do you think it can be sized up? The metal looks quite thin to my eye.
The smaller ring was my mothers from 1973. I think the sapphire is an emerald cut. The metal is 14k WG. It's a very dainty ring and is missing one of the tiny side diamonds. This would also need to be sized up a size or so. Honestly, I think it looks a bit too dainty on my hand (I wear an 8.5 ring) and I'm considering having the stone reset, and possibly adding additional stones. My mom gave her blessing for this. But I don't know where to begin style-wise for that and would love some suggestions!
Thank you all so much!