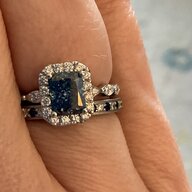 Joined

Apr 17, 2006
Messages

2,379
You might know of the Etsy shop called Diamondrensu. They sell pretty moissanite jewelry. Shop owner Ankit makes his own special cut — the 'Rensu" cut. It is not a splintery crushed ice cut but it is not an antique cut, either. It is somewhere inbetween. It has a flower in the middle and it's pretty.
Photo of moissanite from Etsy shop: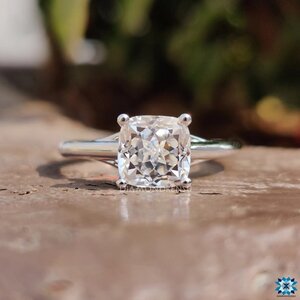 I asked Ankit if he could cut it in LGD and he said yes. 1.03 ct. F color VVS2, HPHT, no fluoro, no post growth treatment, EX/VG, IGI. About 5.7mm.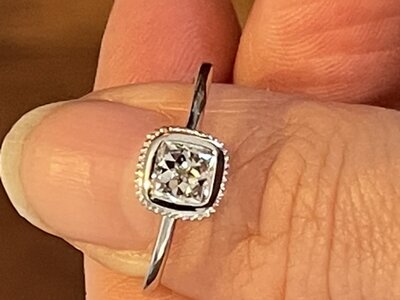 The facets look chunkier in ambient lighting and splintery-er in direct lighting.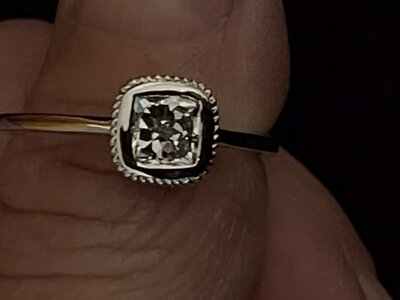 Setting was based on the most comfortable ring I own, a grey spinel, below.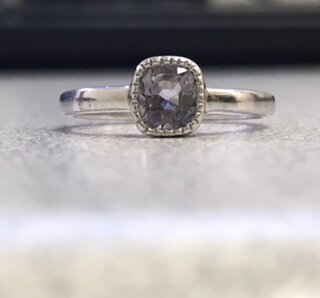 Ankit improved the design and sized it to a 9, although the shank does seem smaller than my other 9s. Setting is 10k WG, not heavy but not flimsy. It is hard to photograph the setting because the metal bezel reflects dark from my phone and the setting kind of looks concave. But it is flush with the diamond.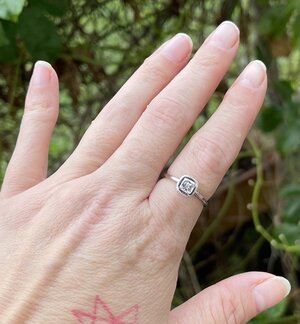 Customer service was great.
I hope this post inspires other vendors and other consumers to experiment with new cuts in LGD. And someone should order a Rensu cut in a bigger size. Thanks for reading!