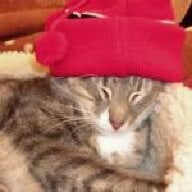 Joined

Aug 14, 2009
Messages

20,086
Long story short:

Bought some freshly-drilled hanks of pearls.
Cut the pearls loose and put them into bowl of plain water (tap water - from our well. No soap.)
Forgot about them... Left them soaking overnight.

Now the pearls are all coated with some white chalky residue. I assume this is from their interiors - a byproduct of having just been drilled - because I've left older strands of pearls soaking overnight in this same water from this same well without any issue.

This coating comes off when I gently scrape my nail across the surface, but a quick rub with a washcloth does nothing - the coating is bonded too the surface just a bit too well.

Is there an easier or "safer" way to remove this coating than vigorously rubbing each pearl? There are... several strands' worth here... Maybe a mineral oil soak?