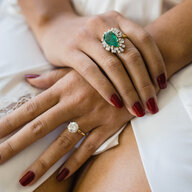 Joined

Sep 26, 2019
Messages

49
For the longest time a ruby with two diamond baguettes was my dream ring (was my original dream engagement ring until I discovered ruby prices have 10x in the last 5-10 years). Since then, I've decided to go heirloom on the engagement ring and but I still wanted a large "ruby red" ring. I've considered spinels (too expensive for something that's not sapphire/emerald/ruby - in my mind they're still the color stone queens even if it's not true), lab rubies (the ones I've seen are generally meh? -- any really good sources for lab rubies?), and garnets (most are either too dark or too purple).
Anyways, I found a vendor who had really pretty red garnets that looks great from a lot of different angles, the ring is still a WIP but I wanted to share some pictures of the stone itself. It's 3.7 carats and roughly 9.2mm long by 8mm. The pictures didn't come out great since they're screen shots from videos. In the group of 4 if you orient the hand fingers up, my garnet is bottom right. The top one left is a spinel, top right a ruby, bottom left is a smaller garnet.
For the setting, I'm thinking 18kt gold with double eagle prongs on the corners. I wear a size 4 so anything more will probably overwhelm the ring.