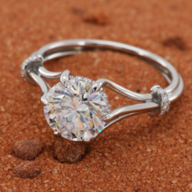 Joined

Nov 26, 2017
Messages

296
The year was 2009. Angelina Jolie wore stunning 115 carat emerald earrings to the 2009 Academy awards. Instantly iconic, the earrings were crafted by Lorraine Schwartz and cost an estimated $2.5M. I've remembered them ever since as being completely stunning, but alas, since I don't have $2.5M million lying around (plus, as we'll get into, there are other considerations with these beauties), I'm finally taking the plunge at having them recreated.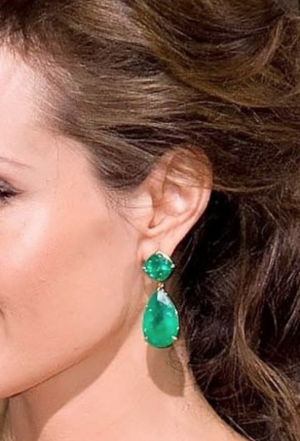 First up, materials. I think lab emeralds are the way to go, although one could consider green onyx, CZ, or paste. Or, whatever composite
these Ross-Simmons earrings are.
I'm also going to spring for real gold settings given the (relatively) high cost of lab emeralds at this size.
Second, design. Angelina's earrings were a whopping 115ct. That's 23 grams! (Or, 11.5 grams per earring). You can tell in the photo that poor Angelina's ears are holding on for dear life! I think that would be incredibly uncomfortable, even for a gala event (that's also excluding any of the gold weight). So let's think about scaling them down.
The costume pair I linked earlier is much more reasonable, at 19.20 ctw of "emerald" whatever. From the product shots (which admittedly are computer generated, but look roughly to scale to me); going down to an 8mm top emerald and 20x13 mm pear will still give some good presence. The model has very similarly sized earlobes to mine (attached), so I think as generated it might even be slightly under-sized.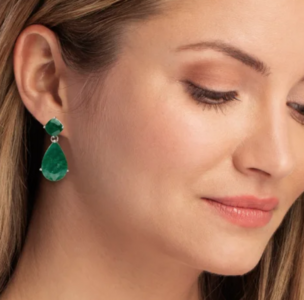 Now, here's where it gets interesting. I spotted these lab emerald beauties on eBay, and love the look of them. 7mm round earring studs, with a 4.5mm diamond and a 16x12mm pear, totaling 14.4ctw of emeralds. (And a much more reasonable 2.9 grams per earring). (Note that the model has a detached earlobe, so it's making the 7mm top emeralds look quite petite).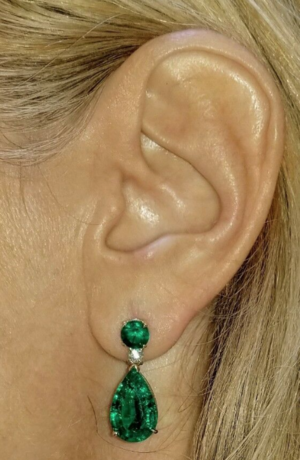 It also brings up an interesting question-- should I change the top emerald to a round stone? Or keep it as a cushion? The possibilities are endless. For now, I'm contacting some instagram sellers to see if I can get some custom emeralds done in 8mm, and then working to see if I can find a good sized set of bottom pears. Then we'll have to approach setting, and I'm hopeful I might be able to get the pears set with an enhancer top so they would be removable. Any thoughts/ideas/well wishes appreciated as I think through the best way to go about recreating Angie's iconic earrings!