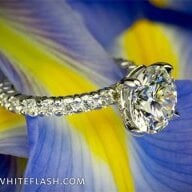 Joined

Jan 30, 2007
Messages

807
Hi ladies,
I''m pretty new to PS and just got happily engaged on the 26th of March! I got my e-ring from
WF
and could not be happier with how it turned out they did a great job (for your ref it is a 2.03ct
ACA
AGS0 princess cut VVS2 and H color centre stone on an eternity band that has RB shared prong stones totalling .90cts set in plat).
Now getting to my prob. I have never really been close with FI''s brother''s fiance let''s call her S and she''s has always been pretty catty with me so I don''t know why I expected her to be nice about my engagement. But here is my story and I would really appreciate knowing what you guys think about all this.
They got engaged before us and she got her ring online e-bay and they did get screwed I guess the quality of the ring in general is pretty poor, bad construction and the centre stone is not an eyeclean SI there is a pretty big black inclusion that is very visible and you don''t have to be close to see it either I have never said anything bad about her ring and I promptly called and congratulated her when they got engaged and admired the ring when I saw it. It was not my cup of tea but I told her it was pretty b/c it is and that she must be very happy and how fun it will be to plan the wedding etc.
Fast forward to my engagement. She heard about it before we got a chance to see her so she e-mailed me and said congrats and then proceeded to tell me that she heard my ring was big and that hopefully I like big things b/c she does not!!!

She loves her ring b/c it is dainty and pretty...big would have been just too much for her too much bling like a rapper...like 50 cent


and she actually said this stuff word for word in the e-mail!!!!
I let it go and replied thanks and left it at that.
Yesterday we went to lunch for Easter with the in-laws so to speak FI''s dad, his 2 brothers, older bro''s GF and then S younger bro''s FI (they are getting married this June).
Right away she comes up to me in the restaurant and takes my hand and the first thing she says is not congrats it''s very pretty or anything like that but she says oh it''s not as big as I thought when I heard 2cts I thought it would be way bigger!!

THEN she says maybe your hands are big!!!! THEN she holds up her hand and asks me to put my hand up to see the size diff of our hands ( I wear a size 4.5 and she wears a size 60 and hers are bigger and she says oh your hands aren''t that much smaller than mine I don''t know it just doesnt'' look that big my friend Louise has a 1.30 RB and it looks just as big but her hands are really little she''s a size 2!!
I didn''t expect a huge compliment from her but seriously what''s the deal!!!????? How hateful can one person be?
Later I was talking to older bro''s GF and was telling her that my parents have been sweet enough to get me diamond studs for my b''day/engagement gift 1.25ctw and she was saying how awesome that is and S chimes in and says be careful to me that if I don''t slow down I''m going to end up looking like 50cent WTF?????

Can you guys believe this chick?
I stayed calm and sort of shrugged the whole thing off but late in the car I was super upset not just angry but hurt and sad and frustrated this girl is going to be in the family too what do I do? Do I address the issue with her in an e-mail or call her? Do I let it go?
I really don''t like her now and I don''t even want to be around her.
I would really like to know what you guys think so don''t hold back tell me.
and thanks for reading my long rant but I am still upset 24 hours later.
thanks and have a great day